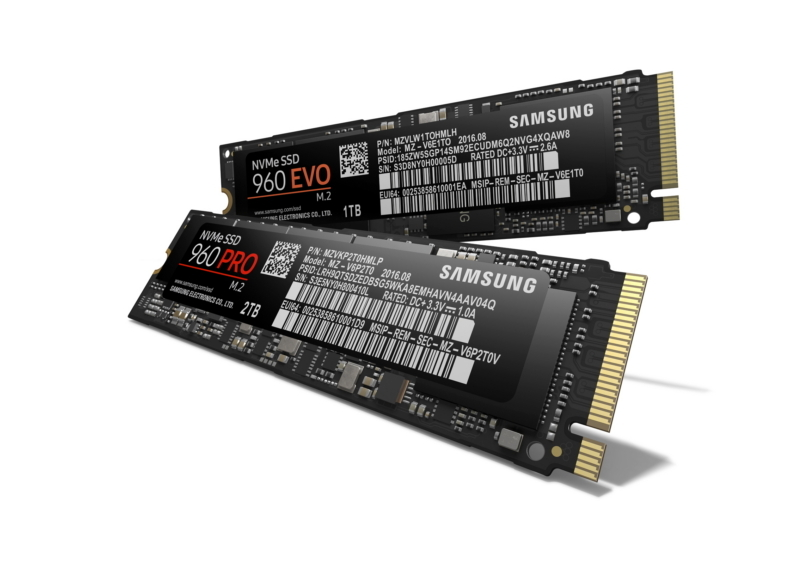 Samsung today announced its two new high performance SSDs, the Samsung 960 PRO and 960 EVO. These SSDs are smaller and deliver higher bandwidth and lower latency for processing large amounts of data on their ultra-thin notebooks and PCs. They use the Peripheral Component Interconnect Express (PCIe) Gen.3 x4 lane interface and are compliant with NVMe specifications to realize effective use of the high-speed PCIe bus and optimize both hardware and software configurations to take advantage of the NVMe SSD technology. They also feature Samsung Dynamic Thermal Guard technology to manage performance during extreme workloads.
The 960 PRO delivers peak sequential read and write transfer speeds of 3,500 MB/s and 2,100 MB/s, respectively, and random read and write IOPS of up to 440,000 and 360,000. On top of being the world's fastest M.2 NVMe- SSD, the 960 PRO will also offer 2 terabyte (TB) capacity, which is the highest capacity commercially available for M.2 NVMe SSDs, along with 512GB and 1TB versions. The 960 PRO promises additional reliability and endurance with the five-year limited warranty and up to 1.2 petabytes written (PBW), whichever occurs first, for the 2TB capacity.
The 960 EVO is available in 250GB, 500GB and 1TB capacities. It will offer sequential read and write speeds, that reach peaks of 3,200 MB/s and 1,900 MB/s respectively. The 960 EVO's random read speed reaches up to 380,000 IOPS and random write speed up to 360,000 IOPS. The 960 EVO comes with a three-year limited warranty and up to 400 terabytes written (TBW), whichever occurs first, for the 1TB capacity version.
The 960 PRO and 960 EVO SSDs will be available worldwide starting October 2016, with prices starting at $329.99 and $129.99 USD respectively.