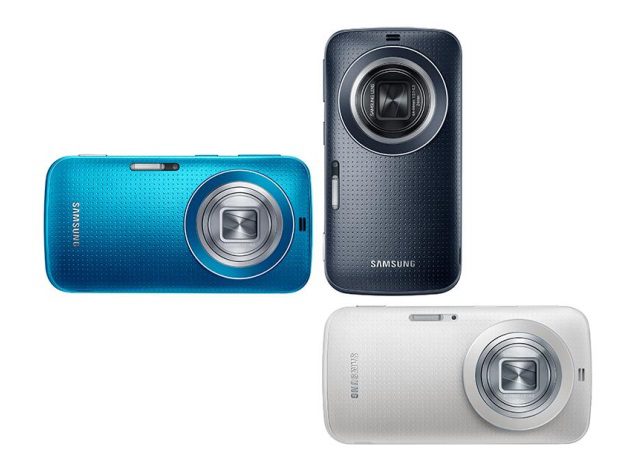 Samsung today announced the new camera specialized smartphone, the Samsung Galaxy K zoom. The Galaxy K zoom will compete against the popular Nokia Lumia 1020 smartphone. Galaxy K zoom features 20.7 megapixel BSI CMOS sensor with OIS, 10x optical zoom, Xenon Flash, full manual mode in its 20mm(approx) body.
This Android 4.4 KitKat smartphone has specs almost similar to Nokia Lumia 1020 with a 4.8-inch, 1280×720 Super AMOLED display, Exynos 5 Hexa SoC, 2GB RAM, 8GB internal memory with microSD support, NFC and 2,430mAh battery. While last year's model Galaxy S4 zoom failed to win over customers as the best smartphone camera, this is Samsung's second attempt. What do you think of this device?
Find more details about the device after the break.
As a camera-specialized smartphone, the Galaxy K zoom offers an advanced technical camera system designed to offer the control and functionality of a professional camera, ensuring that the important moments are never missed and always captured with complete clarity. The Galaxy K zoom is equipped with new retracting lens technology that provides 10x optical zoom in a remarkably slim and chic body. Other notable features include the 20.7 megapixel BSI CMOS sensor for ultra-clear, ultra-detailed images. It excels in low light conditions, and provides Optical Image Stabilizer (OIS) to reduce blur caused by movement. These specifications ensure the device delivers pictures and video (Full HD) that are crisp and sharp, even when zoomed and in low light. In addition, the device's Xenon Flash provides a brighter light than LEDs to improve the quality of the image with natural brilliance.
The new device also integrates the most advanced camera usability features and functions, including AF/AE Separation (/Auto Focus/ Auto Exposure Separation) for the precise balance of light and clarity, next-generation Pro Suggest mode which offers 5 optimized filter settings, Selfie Alarm that allows users to take timed selfies with ease, and object tracking for a clear, focused shot of a moving subject. Each feature comes with a simple User Interface, allowing users to easily capture photos and videos with groundbreaking quality, in any situation.