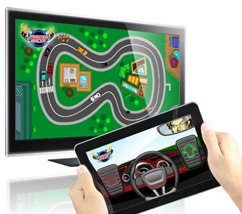 Samsung has its own Smart Connected TV platform for creating apps which work across mobile devices and TVs also.
The MOVL Connect Platform allows developers to build multi-screen, multi-user, cross-platform apps with tools  like HTML, JavaScript, Java (Android), ObjectiveC (iOS), Flash (AS2, AS3). The Platform establishes the infrastructure between the TV and the mobile device controllers and enables one to easily transfer data between both the host and the controllers.
Until very recently the service only supported iOS, Android and web Apps, but it appears the company has recently added Windows Phone 7 support, if the icon on their page is anything to go by.
Hopefully we will soon see some Windows Phone 7 apps which communicate accross both the big and small screen which do not rely on Microsoft for its 3 screen functionality. Â I expect we will hear more at CES soon.
Read more about the technology at connect.movl.com.
Thanks Ahmad for the tip.