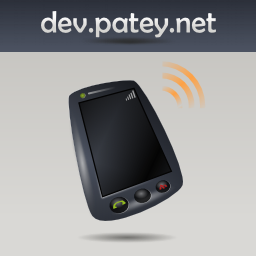 If you have SABnzbd+ installed at home, you're lucky: an application able to manage downloads remotely from your Windows Phone 7 is now available!
SABnzbd+ is an Open Source Binary Newsreader written in Python. SABnzbd makes Usenet as simple and streamlined as possible by automating everything we can. All you have to do is add an .nzb. SABnzbd takes over from there, where it will be automatically downloaded, verified, repaired, extracted and filed away with zero human interaction.
What's new here ? You can now do exactly the same from your Windows Phone 7, wherever you are !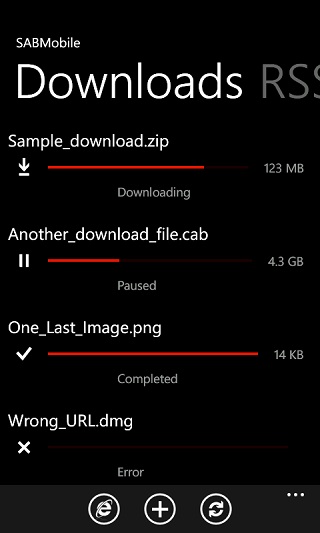 The application is named SABMobile.
SABMobile allows you to connct to your SABnzbd+ at home and manage your downloads while on the go, through WIFI or 3G. This way, you can use your mobile web browser to look for something to download, send the link home to SABnzbd+ and the file will be ready when you come back home in the evening !
Once connected, you have access to the list of downloading files, and of course, see the download speed, pause/resume or stop the download. Clicking on the "+" will add a new download directly to the list and start the download. Easy!
If you want to see more information about a specific file, just click on it !
The integrated web browser accessible with the Internet Explorer icon allows you to surf and choose files to download with a long click. Just touch the link, and it'll ask to download it ! You can choose any NZB file !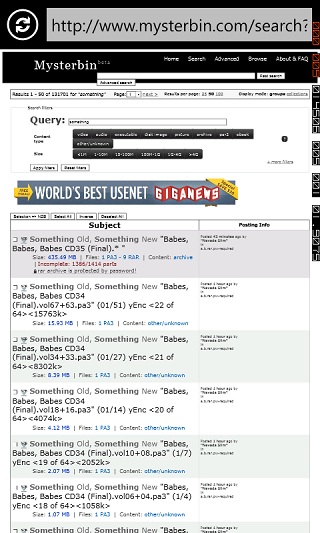 You continuously follow updates of a specific program ? A RSS feed reader is available in the application, and allows you to be aware of news. Just add the file to downloads with a single click !
And finally, the most advanced feature is the ability to search for files on different search engines at once. By default, several searchers are available (MysterBin, NZBMatrix, NZBs, Newzbin, …) and allows you to choose a free video or music. If those aren't enough, you can enter your own or just go through the list available on dev.patey.net.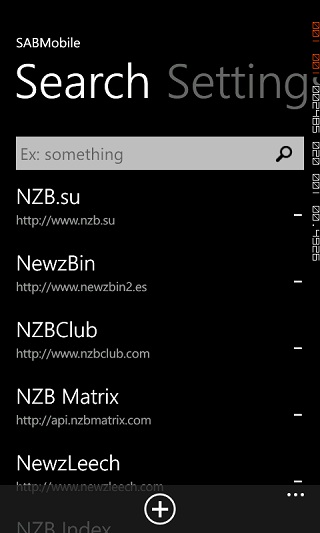 You're convinced ? SABMobile is available on the Windows Phone MarketPlace.
Direct link:
And if you don't own a Windows Phone 7, jump to the website: SABMobile is also available for iPhone/iPad, Android and Nokia (Symbian).
Happy download!