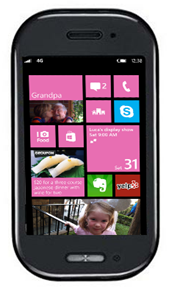 The revelation of the Microsoft Surface, Microsoft's own-branded tablet, has sparked of rumours of Microsoft also producing their own Windows Phone also, Reuters reports.
"Our industry sources tell us that Microsoft may be working with a contract manufacturer to develop their own handset for Windows Phone 8," wrote Nomura analyst Rick Sherlund in a note to clients on Thursday.
"It is unclear to us whether this would be a reference platform or whether this may be a go-to market Microsoft-branded handset," wrote Sherlund, who covered Microsoft for Goldman Sachs when the bank brought Microsoft public in 1986.
Microsoft however signalled that the story was just hot air, with a spokesman saying the company was a "big believer in our hardware partners and together we're focused on bringing Windows Phone 8 to market this year."
Microsoft has of course flirted with making their own smartphone before, with the Kin being pretty close to an unmitigated disaster. 
Do our readers think the new Microsoft may be brave enough for a second round? Let us know below.
Thanks Milad for the tip.