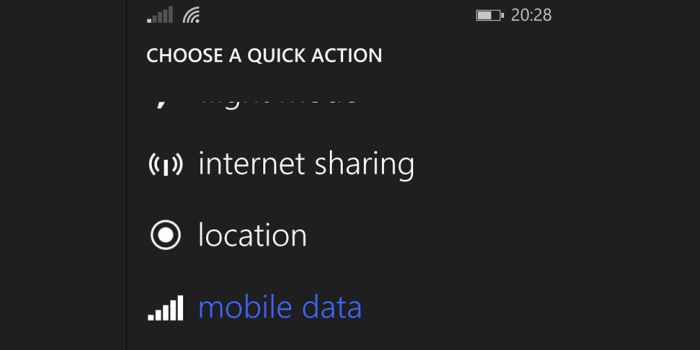 We are pretty sure Microsoft planned two WP8.1 updates for 2014, and we even saw evidence of this via the Bluetooth SIG, but in the end only managed to get out, with great difficulty, one.
Now NokiaPowerUser claims that, according to their sources, Update 2 for Windows Phone 8.1 may have been cancelled completely, in preference of  pushing out Windows Mobile 10 early to Phone Insiders.
Some of the rumoured features of Windows Phone 8.1 Update 2, such as the Mobile Data toggle (above), has already arrived via smaller updates, but we have seen that Update 2 was meant to include a new Bluetooth stack with features which I assume will now not come to WP8.1.

The good news is that Windows 10 for phones should be a much more full featured and powerful OS than Windows Phone 8, and by cancelling Update 2 it will avoid the drama of another update delayed by carriers around the world.
NPU also suggests we may see a high-end Windows 10 handset by March at Mobile World Congress 2015, but at present given the lack of leaks this seems unlikely.
Would our readers be concerned about missing out on WP8.1 Update 2, or does the Phone Insider update make up for it?