Senior editor at the Verge Tom Warren has just dropped a small bombshell in an otherwise innocuous tweet.
In a tweet about the recent rumour of GDR updates for Windows Phone 8.1 he also suggested a couple of Sony handsets may drop by July.
Sony has recently confirmed that they are in talks with Microsoft about a phone, with  Pierre Perron, head of Sony Mobile Europe saying:
"We are continuing our discussions with other partners, including Microsoft, as part of our partnership with this company on the broader Sony spectrum."
He then confirmed that talks were tentative, though other rumours suggested the company was already starting a small production run of a few thousand handsets.
Perron declined to give a specific date on when we might see a Sony Windows Phone. I guess July is as good a date as any.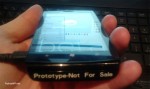 Sony has a history of producing a number of Xperia Windows Mobile handsets, and also producing a prototype Windows Phone 7 handset that never shipped.
Do our readers think their return to the platform is likely?