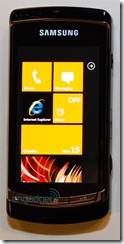 Unwiredview.com brings us this rumour from Russian Mobile wizard site Mobile-Review.com.  The site famously brought us some of the first Windows Phone 7 news, confirming the lack of backward compatibility and the Zune-like UI.
According to Mobile review.com, Samsung will by launching 4 extremely powerful Windows Mobile handsets this summer. The handsets will be even more powerful than the HTC HD2, some with HD video support and 4 inch AMOLED screens.
Of course, with Windows Phone 7 announced, any company with their ears close to the ground would realize no-one will be investing in an expensive Windows Mobile 6.5 handset.  Samsung, wisely however, is apparently negotiating with Microsoft to make these handsets officially upgradable to Windows phone 7 in January 2011.
Now if only HTC caught the hint…
Will our readers buy an officially upgradable handset or wait for devices which come pre-installed with Windows Phone 7? Let us know below.
Via Unwiredview.com.