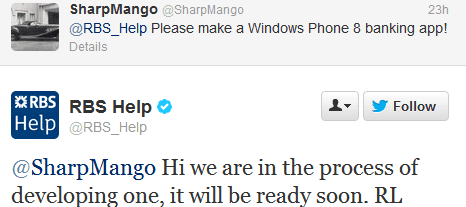 I guess UK banks are sensing that surging UK Windows Phone market share, as another bank has said they are working on a Windows Phone app.
Responding to a question on Twitter, RBS support said they were in the process of developing an app, and that it will be ready soon.
We have heard earlier that Natwest was also working on an app, and Barclays was monitoring demand.
While Windows Phone still has a major app deficit, I predict that a number of factors including simply the rising market share of the OS, will cause 2013 to be the year when Windows Phone get most of the major missing apps.
Via Neowin.net.