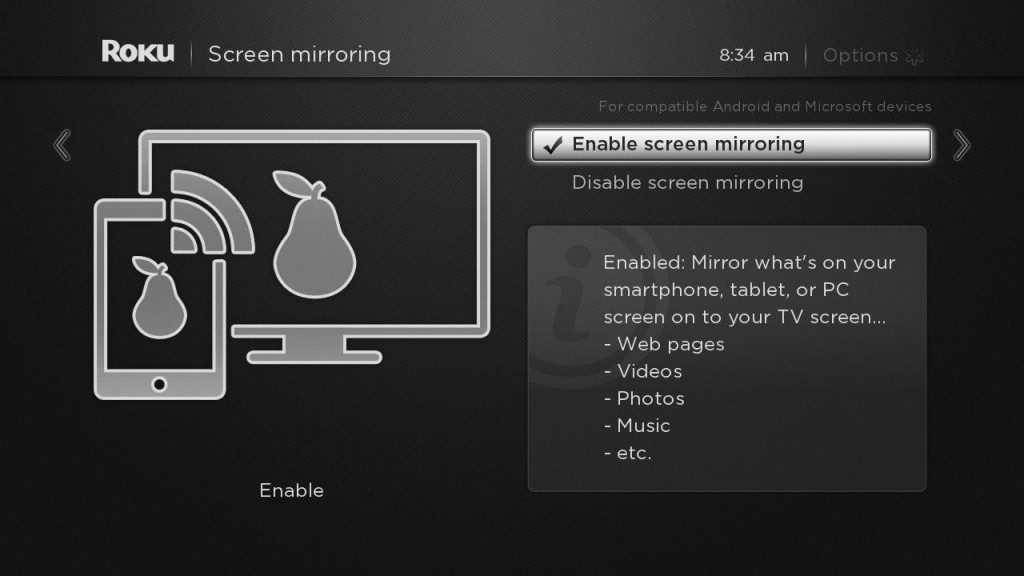 Recently, Microsoft announced their Wireless Display Adapter accessory which connects to an HDTV, monitor, or projector and will let you easily share content from any Miracast-enabled device – including many PCs and Tablets running Windows 8.1. Today, Roku announced that they are enabling Screen Mirroring in their Streaming Stick and Roku 3 devices.
Screen mirroring is one of the simplest ways to share any type of content with those around you, and you won't need additional apps or software. All you'll need is a compatible device with mirroring capabilities. Once you turn on mirroring for your phone, tablet or laptop, you can pair with your compatible Roku player and whatever you see on your mobile device is exactly what will be displayed on your TV.
The beta release of this new screen mirroring feature will begin to roll out to Roku customers today and expect it to be available to all customers within the next few weeks. Roku's screen mirroring is supported both in Windows Phone and Windows 8.1 devices which supports Miracast. If you own one of these Roku devices, you may not need the Wireless Adpater from Microsoft as both does the same job.
Read about how to use this screen mirroring in Windows Phone devices here and in Windows 8.1 devices here.
Source: Roku