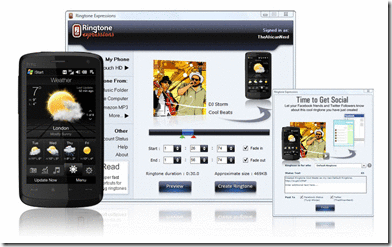 Ringtone Expressions is a desktop tool which allows one to create your own custom ringtones for your Windows Mobile Phone using the music from your music library. This allows one to create an unlimited amount of ringtones and never have to pay for ringtones again.
The software features:
Create ringtones instantly with Drag and Drop from iTunes
Create ringtones from songs purchased on the iTune plus
Get Ringtone Shuffler for absolutely free
Express your ringtones to friends on Facebook and Twitter
Create ringtones from YouTube Videos
Discover cool new ringtones from your Facebook friends
Create ringtones from website with flash based music or video player
Create ringtones from your computer's microphone
Your own Ringtone Expressions Facebook Widget
Gorgeous Interface and Experience
Gx5, the developer, is offering 50% of this application this Cyber Monday.  The software is available in our in our software store here. Remember to enter the coupon code of cybermonday-rte to access the discount.