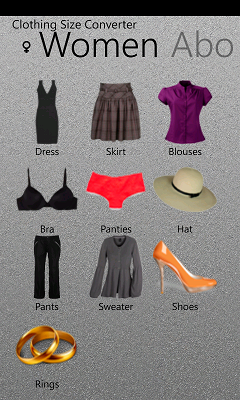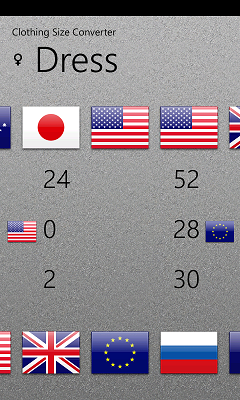 MaginSoft presents its newest application – Right Size.  Right Size is a
clothing size conversion tool supporting US, UK, European, Japanese and
Russian standards. If you cannot take your body measurements right now, you
can enter a size you know and the application will convert it into all
global size standards. With Right Size, a trip abroad, online shopping or
buying a surprise gift for your significant other will be so much easier!

Features:
•    Fast and easy conversion of clothing sizes.
•    Multiple standards – you can choose sizes of US, UK, Japanese and European standards
•    English and Russian interfaces
List of available Clothes for men and women

Men's clothing:
• Pants
• Coats
• Suits
• Sweaters
• T-shirts
• Underwears
• Shoes
• Socks
• Hats
• Rings
Women's clothing:
•    Dresses
•    Skirts
•    Blouses
•    Bras
•    Panties
•    Hats
•    Pants
•    Sweaters
•    Shoes
•    Rings


Availability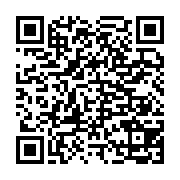 Right Size 1.0 can be purchased for 99 cents via the Microsoft Windows Phone Marketplace. Supported user interface languages include English and Russian.
Trial version is available.
Contacts
Follow us on Twitter: @maginsoft
Join us on Facebook: Right Size
Visit us at: http://www.maginsoft.com