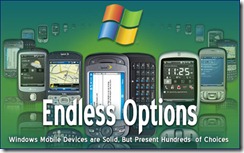 XDA-Developers have always focussed on HTC-manufactured devices, even if rebranded under a different name such as Sony Ericsson, but with HTC only producing around 50% of Windows Mobile devices these days that has always left out quite a large number of users trying to get community support for their chosen device.
Well, that is now all set to change.  As part of a series of changes to make their content faster and more accessible they will also be including selected smartphones by other OEM's
Finally– and hopefully this doesn't cause a mass uproar– we are considering the idea of selectively adding non-HTC device forums (focused on Windows Mobile and Android devices). Every day we get requests from users for this, and there's really no good reason why we cannot oblige them. Already the discussion is happening in the general forums. That said, we will only add new forums if: 1. We are confident added traffic won't cause site speed to suffer; 2. We can recruit quality moderators; and 3. The content and discussion is of high quality. The only way to know these things for sure is to try it out. So, within the next 14 days we are going to add two or three non-HTC forums. The delay is to ensure the site continues to operate at a reasonable speed and so we can figure out where to put the new forums (the forum homepage is already absurdly long and cluttered). We are open to suggestions as to deserving devices for our first non-HTC forums, so give us your ideas in this thread.
Read more in this XDA-Developers thread.
Do you as an XDA-Dev user welcome these changes? Let us know below.
Thanks hubbie from HTCEros.com for the tip.