If you are truly a Windows Mobile power user, then you certainly to know who is SPB Software. It's the company that gave us SPB Mobile Shell, some of the most addictive games for Windows Mobile and of course smart scrolling when the only device supporting them was the first HTC Touch. Well, as you probably know SPB released back in September one application called SPB Online that gave access to several online services, including radio and TV content, online multimedia games, news feeds, weather updates and an online catalog of ready to purchase SPB applications and games.
With SPB Online out for 3 months, it already received several reviews. And if you have read one of them you would know that although the application delivers on almost everything it promises, the price is somewhat high for the content you get. Thankfully, SPB Software House, just recently doubled the number of TV stations the user can access, giving us the chance to make a fresh review of this unique application.
Hit the Read the rest of this entry link for the full review…
First Impressions
The program, currently in version 1.2.0, is 8MB , making the installation process rather lengthy. It's big for a reason though, as the application supports pretty much (almost) every Windows Mobile resolution you can think of. Once the installation is over, you can get access to the program features via a single icon in the program menu. Nice touches are, the color changing interface that changes according to the system theme and the fluid animations between tabs. The main features of SPB Online are the TV, Radio and News. So let's start with them.
TV
I am sure that when SPB was developing this program, the TV module is the one they gave their most attention. And they should, since this the stand-out feature of SPB Online. Having access to a total of 37 TV channels with Picture-In-Picture support and TV Guide for almost all channels is a pleasure. The sound and the picture quality are flawless for most of the channels and the screen controls are quite useful. Moreover, SPB was sensible enough to include a Video Quality option for those with access to a low bandwidth connection, but I can't really say that the program performs satisfactory unless in 3G or Wi-Fi network speeds.
Below is the list with most of the TV Channels that SPB Online offers:
Sky News UK
France 24
KNBC Weather Plus
Smile of a Child
Boardriders TV
NASA TV
All Music TV
La Belle TV
N-TV
3 Sat
GIGA
BFM TV
MCM Top
Deutche Welle
MAD TV
Eurosport News
TV Knob
Speed Auction
Graafschap TV
Channel One Russia
CCTV
RTV Pink
iTele
and more…
So, how would I grade the TV features of SPB Online? Seeing that the TV channel selection got bigger and experiencing the ease of use for this specific module, I can't say that I am disappointed. Quite the opposite actually, as I would go as far as proclaiming SPB Online, as the best Internet TV streaming service on Windows Mobile today.
RADIO
SPB definitely took a different approach for the Internet Radio features on SPB Online than Internet TV. Although, that is not a bad thing, as Radio interface is still rather finger-friendly and easy to use, I would prefer the Radio functions more similar to the TV ones. That is, I would like to see program guides, information about each radio station and maybe visualization. Unlike the TV module however, you can add new radio through a URL or the provided list. The Radio is compatible the most popular Internet Radio formats, including WMA and SHOUTcast!
All in all, while it is a good effort to provide Internet Radio services,I am sure that radio friends can find better (and cheaper) applications for their Windows Mobile devices, like Kinoma Play, Resco Pocket Radio etc.
NEWS
The news module on SPB Online, is nothing more than an RSS Feeder. Still, it provides finger-friendly access to RSS feeds, while new ones can be added through an online catalog, URL, search and OPML files. Again, I can't say that I am disappointed with the News feature on SPB Online as it delivers exactly what it supposes to.
SPB was kind enough to provide us with one more application that they develop, the SPB Insight. Trying out this $19.95 application, I found it to be the roughly the same program that you get with the SPB Online, when launching the News module. So for anyone that already bought the SPB Insight, the SPB Online won't provide anything new in the area of news feeds.
WEATHER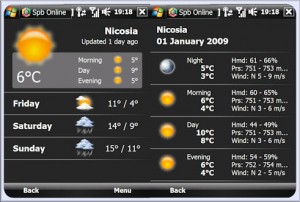 As the title suggest, it's a weather module for SPB Online. It provides forecasts for temperature, humidity levels, wind etc, for the next four days and covers the Night, Morning, Day and Evening of each day. Unfortunately, in contrast with SPB Weather, this doesn't add an extension to the Today Screen.
Although it delivers more information than the average Windows Mobile Weather application, for most it won't replace the weather application that was preinstalled on their device today screen.
ONLINE GAMES
If you like Checkers, Hexagon or Reversi you will be keen on this feature of SPB Online. You can play against real people in real time (if there is anyone else wanting to play the same game as you do at that time); else you play against the CPU. Personally, I found an opponent 3 out of four times when I trying out a game. You can have in-game messaging or game saves, but since you can't select your own opponent I don't know how useful those features are. In case that you are not interested in any of the pre-existing games, there is the option to buy over-the-air one of SPB's other Windows Mobile games, like SPB Bubbles, Brain Evolution etc.
Online Games, are available as a stand-alone game in SPB's site, for $14.95.
ONLINE CATALOG
SPB Online provides access not just to SPB's games but to applications as well. Through SPB Online Catalog you can access ringtones, themes and apparently all of SPB's Windows Mobile applications and games. Although, most of the software available comes from SPB, you can find software developed by OmniG and even Microsoft as well.
Resembling an online application store, you can choose over several categories, see a screenshot and a small description of each application, download a trial if it offered and then buy it directly with your credit card details without the need of an external browser.
FINAL WORDS
Reviewing an All-In-One application like SPB Online is very hard. Surely it is a unique application that would be a great addition to the preinstalled software of any device (read: Russia's Sky Link) and I would like the TV Module sold as a unique application for half the price. But would I buy SPB Online for the asking price of $29.95? Well, if you consider that there are freeware RSS Feeders or Internet Radio applications widely available then the asking price seems high, but for someone who is looking for a robust multimedia suite and doesn't already own similar applications, SPB Online higly recommended. The usability and performance of SPB Online easily outshine its high price.
SPB Online can be bought from SPB Software for $29.95.