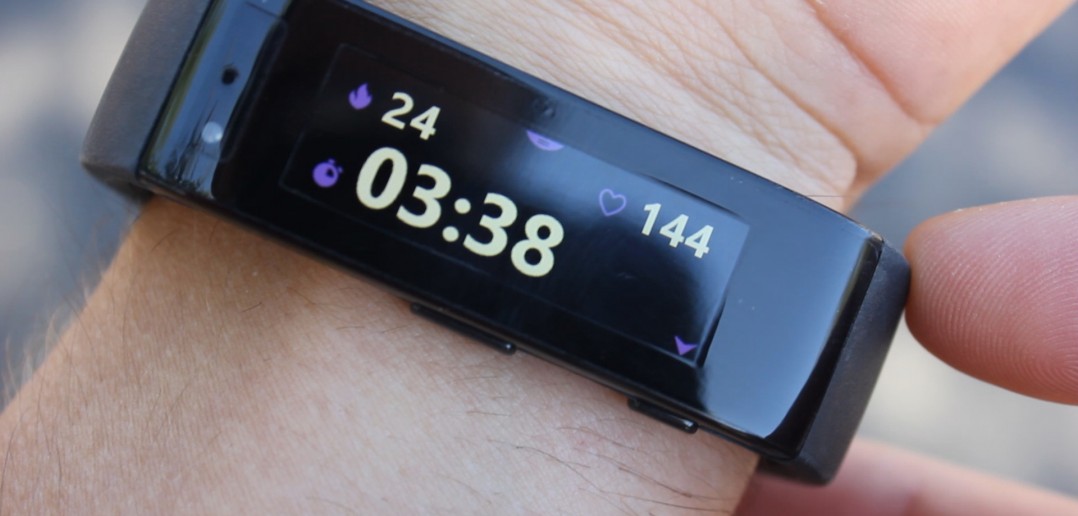 The Microsoft Band is a fitness watch that also has some smartwatch features bundled in. Let's look specifically at the fitness and health features of the Band. To see how the Band compares as a smartwatch, check our separate smartwatch review.
Review of Microsoft Band as a fitness watch
Overall, the Microsoft Band is excellent for tracking your fitness and health. There are a few minor issues, but in general, it does everything I consider critical.
Positives
Having a heart rate monitor is awesome
Fits snuggly while running
GPS is extremely accurate
Finding true resting heart rate while sleeping is neat
Estimate of calories burnt is cool
Battery easily lasts a day as long as you limit GPS to 1 hour max
Negatives
No hiking or biking options, have to use "Run"
Impossible to permanently display total distance while running
Battery dies within 4 hours using GPS, not useful for hiking
No way to export GPS path info
Sharing a run from the app only shares your distance, not even time!
The Band has a step counter, heart rate monitor, GPS, and some other sensors that let it estimate the calories you've burnt throughout the day and the miles you've covered. The heart rate monitor is really helpful while exercising, since it provides instant feedback about how hard you are pushing yourself.
There are two options for tracking activites: Run and Workout. But what if you want to track a bicycle ride? Apparently you're supposed to select "Run", which is used for anything that involves distance. Run optionally lets you enable GPS for measuring your distance (otherwise it uses the step counter). The fact that Microsoft doesn't have sub-activities like hiking, bicycling, kayaking, walking, and more is quite frustrating. Same goes for workouts.
But the Band is quite comfortable to run with. It has an adjustable band, so you can tighten the band up for runs. And since it has GPS, you can leave your phone at home.
However, using GPS drains the battery quite quickly. Expect to get 4 hours of GPS tracking… so you better run a good pace for that marathon! But for most people's running adventures, the battery life should be sufficient. Activities like hiking and mountain biking, however, will likely drain the Band's battery before the activity is even finished.
If you don't use GPS, you can get about 48 hours of battery life from the Band. For more info about the battery, check out our initial tests of battery life.
During a run, the Band displays your heart rate, calories burnt, and duration of the run. If you swipe down, you can see your total distance and your minute-per-mile pace. However, you have to swipe down every time you want to see that information, since it automatically disappears after a few seconds, which is frustrating.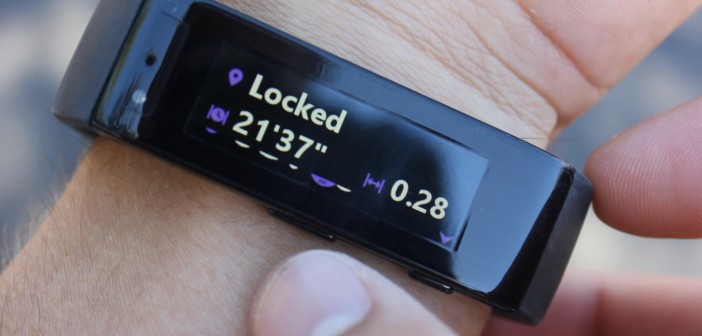 Workouts are used for things like lifting weights, doing yoga, and more. It'll track your heart rate so you can see how hard you were working.
On the Band itself, you can view details about your most recent run/workout, but that's it. You have to go to your phone to view all the previous activities. It would be nice if the Band could display your past 8 runs and workouts.
The Band is decently waterproof, letting you exercise with it in the rain. However, the touchscreen isn't usable when there's moisture on it, which might be a problem for people who live where rain is a part of life. Even sweaty fingers will make the Band's screen slightly unresponsive.
The Microsoft Health companion app lets you view lots of details about your activities, which is awesome. You can see charts of your heart rate during a run, view your pace on the map, and more. However, the app doesn't have any way of exporting your GPS path information, and the "share" functionality of the app is extremely basic. Sharing your run to Facebook simply says how many miles you ran, it doesn't even include the time! You'll have to connect RunKeeper to your account if you want your running data to be more easily shared.
Overall, the Band serves its purpose as a fitness watch. Wearing it all day lets you get a better estimate of how many calories you burn, which is quite nifty. And the fact that you can also view your phone's notifications on your watch makes it more worthwhile to wear it throughout your day, instead of just during activities.
It also has plenty of cool, if not gimmicky, features. You can use sleep mode to track your sleep, discovering how many times you woke up and what your true resting heart rate is. It also has a UV light sensor that can calculate how long it'll take till you get a sunburn.
If you're looking for a fitness watch that has a touch of intelligence and day-to-day functionality, the Band is a great choice. Hopefully its few issues can be resolved quickly with some software updates.