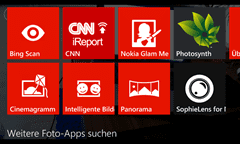 Unlike the Lumia 520 the Lumia 720 also supports Nokia GlamMe and not '"only" the rest of Nokia's camera lenses (SophieLens for Nokia, Smartshot, Panorama, Cinemagramm), Nokia Music, HERE Maps, Drive (without plus) and CityLens, exclusive games from EA (though not all are available, though, due to the smaller RAM) and the other exclusive apps.Like the Nokia Lumia 520 the Lumia 720 also offers a bundle of exclusive Nokia software. An example is Nokia Music, with free music streaming, or Nokia City Lens, the Augmented Reality app for Nokia devices.
All these apps, and also all other available, are full-featured and work like a charm. They open fast and run great; there's nothing negative to say. The smaller RAM does not mean a worse app experience, only a slightly smaller selection.
Mostly apps not available on the 720 are high-end games like Modern Combat. Only Temple Run is a game which should normally work but does not.
Not all higher performance games are excluded however. Dredd vs Zombies and also Asphalt 7 works great. Both games run smoothly and have great graphics. Only loading times are slightly longer than on higher-end devices.
I am still however of the opinion even these high-end games should work. A mid-range device should be able to handle this (maybe not on the highest graphic level, though) and given that Android and iOS devices can do this, a Windows Phone should also. The iPhone 4 still can play all games without major issues and also mid-range Android devices can handle these games as well.
As you can see the Lumia 720 provides an almost complete experience when it comes to apps. However, high-performance games don't work, which is a pity since they should do so. People who don't use their phone to play games, however, should be perfectly satisfied with the Lumia 720.