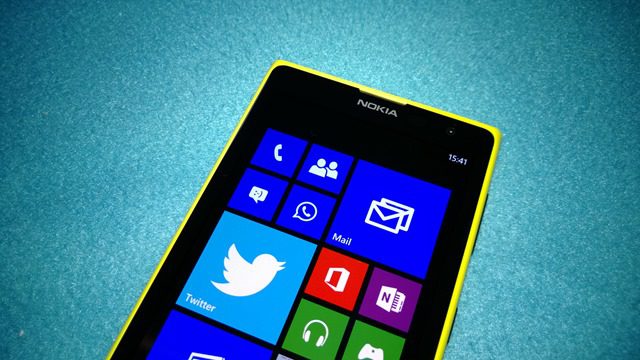 Normally the third part of a review is the software part but since the software is pretty much the same as on the other Lumias (with one difference: 2 gigs of RAM which I already mentioned in earlier parts) I decided not to make a part about the software.
In this part however, which is published little later because of GTA 5, I want to tell you about the daily usage. Actually the devices does extremely well with no negative points overall; negative are only some smaller details which don't really sway much.
The screen
Like I already mentioned the 920 has a better screen in my opinion. However, the 1020's screen is still high quality with an awesome readability outside, a great contrast and nice clarity. In comparison to the 920 the screen is a little less sharp because of only two sub pixels instead of three, the colors are oversaturated and the screen feels a little slower (less Hertz maybe?), but standing alone the screen simply looks great, and I am sure there are many people who prefer the more saturated colors of the AMOLED screen over the natural ones of the IPS screen.
Battery life
This one is probably one of the 1020's best strengths: On normal to heavy usage I made it up to one day and had 20% battery left. On low usage I sometimes made it up to whole three days and on stand by only the battery lasted about a week! These are awesome values for a smartphone and even better ones for a smartphone with an only 2000 mAh battery!
Voice and speaker quality
The 1020 has very good speakers! When listening to music you will notice the quality which is ways above average! I am not sure whether it can compete with HTC's BoomSound, but the sound is extremely good: Even a little bit of bass is audible. The volume can be turned very high and the sound is still without distortion. That is a point the 1020 does much better than the 920 (although the 920 hasn't bad speakers either)
When calling the quality is very good, too. It is not that much better than the 920 but there is still a difference audible: When I asked the opposite side told me I was very clearly legible and I could understand the other person very well also; everything sounded clear and natural.
Build quality and design
We all know Nokia is a juggernaut when it comes to build quality and the Lumia 1020 is no exception. Nothing crunches, jiggles or is loose in any way. The matte polycarbonate feels like soft touch and makes holding the device a pleasure.
The big camera bump on the back first was very disturbing but once you get used to it it does show some positive aspects as well: The handset is much safer in the hand as it is a little like a stopper which prevents the device from falling down. The only thing which —could— have been solved a bit better is that the camera bump could be a little smaller so the fingers don't need to be placed that awkwardly – but once again, this is only a small detail.
The device is not too heavy but not very light either – it is somewhere in the middle. Yes, I think it is maybe one or two grams too heavy – but considering the big camera in there the weight is not bad!
Storage
Many people were concerned about the mass storage of the device as 38 MPX pictures are quite big and together with apps, games and music the storage may be filled very quickly. I can tell you: 32 gigs of storage are enough, at least for me. Do I have music on the device? Yes, a bit (some Nokia Music playlists stored offline). Do I have many apps and games on the device? Since I restored the data from my personal Windows Phone, yes. Do I have many pictures on the device? What a question, of course!
And still I have plenty of storage free. I don't really think the limited storage is a problem; still, a MicroSD slot should have been built in since many people surely use way more apps and games than I do…
Additional things
As it is a Nokia it of course also comes with supersensitive touch which works just great as always – in my opinion it is one of the best features Nokia Lumia devices offer. Also on board is NFC which adds much usability to the device as well – at least for me as I use it almost daily.
Because the Lumia 1020 has a AMOLED screen Nokia glance screen is a feature which really should be turned on: The screen uses almost no energy and the clock is still bright enough to be visible outside – at least barely.
One more thing: When the battery is at 0% and the device turned off the windows logo blinks to show the device is charging – I am sure more can be done with this blinking, but let's just wait for future updates on this, maybe then we know more

As you can see: Overall everything is positive and only some smaller points are not perfect, but all in all the daily usability is just great! The Lumia 1020 is a simply great device and a true masterpiece. Stay tuned for more here on WMPU.