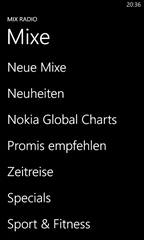 In case of software Nokia is definitely the most attractive Windows Phone OEM. With HERE Maps and Drive (ok, these are now also available on other Windows Phones), HERE City Lens, Nokia Music and several camera features Nokia provides a huge bunch of exclusive and great features for its Lumia devices.
Of course those features are also available on the Lumia 520. Just for recollection, the Lumia 520 is the cute little low-end device for only 200€. So far I told you about the first impression, the hardware and the usability, but today I want to take up the software which comes with the Lumia 520.
The Lumia 520 comes preinstalled with almost all Nokia services. HERE Maps and Drive (without a plus, I will come back to this later) provide a almost full navigation experience. Then there is also Nokia's free music streaming service Nokia Music. Last but not least also almost all camera lenses are available, which means panorama, smart shot, cinemagramm, photo beamer, creative studio and SophieLens for Nokia. Only Nokia GlamMe is not available due to the lack of a front facing camera. Of course also apps like PlayTo (a DLNA-App), Nokia trailers, Burton, Nokia eBooks, App Highlights and ringtone maker aren't missed.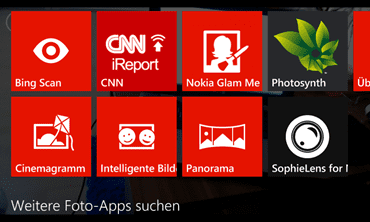 Additionally almost all 3rd party apps available which are exclusive to Nokia. Just a few examples are: Weather, Sims, Vampire Rush and World of Red Bull. Unfortunately the newer exclusive games by EA like Real Racing or Mass Effect aren't downloadable because the Lumia 520 only has 512MB of RAM available. I personally, however, do not understand why Real Racing 2 isn't available, since the game's graphics are really not that good.
Anyways, all this apps are full-featured and without any issues in case of usability. Everything works like optimized on the hardware and like a charm.
But, let's get back to HERE Drive at this point.
With HERE Drive you get a full featured, offline turn-by turn navigation. But it's not usable outside your home country because it is not the "plus"-version. This is a big pity because I think most people would use a navigation system abroad, but what else the software does it does perfectly well. The navigation provides a safe and smooth navigation experience without any data traffic if not needed.
Let's go off Nokia's exclusive apps now and look whether the "only" 512MB RAM are a problem for the rest of the apps available in the Windows Phone store:
No, they're not. All apps open fast and run smoothly. There is no real difference between the Lumia 920 and the 520 in app performance. Differences are only visible in some games, but even then the graphics are not too different. A game like "Dredd vs Zombies" also runs great on a Lumia 520 and the graphics are still great, so it's up to how well the developers code their games. Of course even a perfect coding won't make all games run on a low-end device, I am talking about games like Modern Combat 4: Zero Hour, but the Lumia 520 proves that low-end does not automatically mean low performance. Still, the 520 is a low-end device and not a device which is made specially for gaming.
As you can see the Lumia 520 provides even with only 512MB of RAM a almost full featured software experience. Only HERE Drive is not completely full featured and some higher performance games don't work, but that's all really. For 200€ there's nothing to criticize here and in case of software the Lumia 520 is absolutely worth it's price.