Call of Duty: WWII is the best Call of Duty game is years. Not only is the multiplayer more focused and accessible, but it also features the best campaign in a very long time. Call of Duty needed to shift its focus back to harrowing conflicts and this game does so successfully. By giving gamers what they've been asking for for years, Activision has not only reinvigorated the franchise, but they've also distilled the gameplay down to its purest form.
When you boot up Call of Duty: WWII for the first time, you'll immediately notice just how good it looks. If you own an Xbox One X, it looks even better. After Call of Duty: Ghosts, games like Call of Duty: Advanced Warfare have been visual showcases but this beats every one of them. The visuals are almost on the level of a game like Battlefield 1. While the Frostbite visual engine is definitely superior, Call of Duty: WWII features better shooting mechanics.
Actual World War II weapons weren't as accurate as the ones portrayed in the game, but they feel great and it's a pleasure to use them. Some individuals will probably question the authenticity of the experience but if you can't shoot an enemy properly, it's just not fun. Each and every weapon, including the flame thrower, is a joy to use. It's clear Sledgehammer Games put a lot of care into making each gun feel unique and powerful. This is rare in a multiplayer game because everyone has their own preferences. Rarely have we played a title where you want to use every gun.
Call of Duty: WWII's campaign focuses on a young American solider and his friends. You land in Normandy on D-Day and battle across Europe through iconic locations in history's most monumental war. Despite being a short endeavor, the campaign lets you experience classic Call of Duty combat, the bonds of camaraderie, and the unforgiving nature of war against a global power throwing the world into tyranny.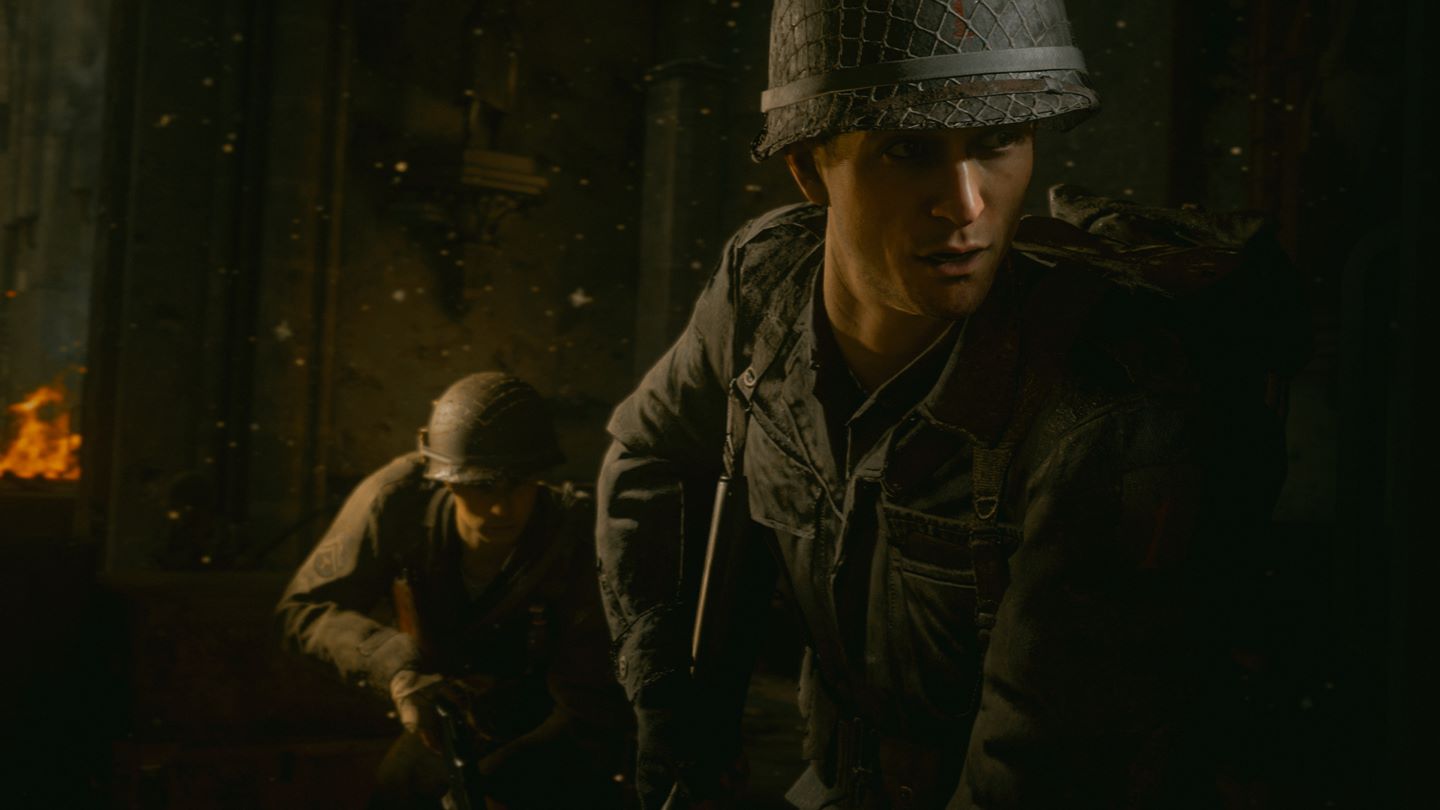 One of the biggest changes many gamers will probably like is the multiplayer. Over the past few years many shooters have become increasingly vertical and rely on fast-paced movement at all times. Call of Duty: WWII keeps your boots on the ground but this means that there's more strategy involved. You can't just jump up to a roof in the blink of an eye with a jetpack. This results in flatter maps but requires gamers to exercise caution. While the run-and-gun approach still works, those who carefully study the maps and calculate where the enemy will come from should emerge victorious. In many ways it feels a lot like Battlefield 1.
Aside from a serious campaign and fun multiplayer modes, Call of Duty is known for Zombies. Zombies is co-op survival experience which features a quirky story. It's a little surprising at this point why it's not its own game. However, we'll take a free mode any day over having to pay again! Shooting Nazis is quite satisfying in the main campaign but shooting Nazi Zombies is even better. It's some great lighthearted fun. Well, lighthearted in terms of the story, the actual gameplay is unbelievably tense and frantic.
Overall, Call of Duty: WWII is a great game and meets or exceeds expectations. The servers are solid at this point and we didn't encounter problems. If you haven't played a Call of Duty game in a while, this is the one which will make you love the franchise again. There's a lot of content here and I can finally say I understand why millions of gamers around the world absolutely adore this franchise. Call of Duty: WWII made me into a believer because it's just that good.
9/10
Xbox One