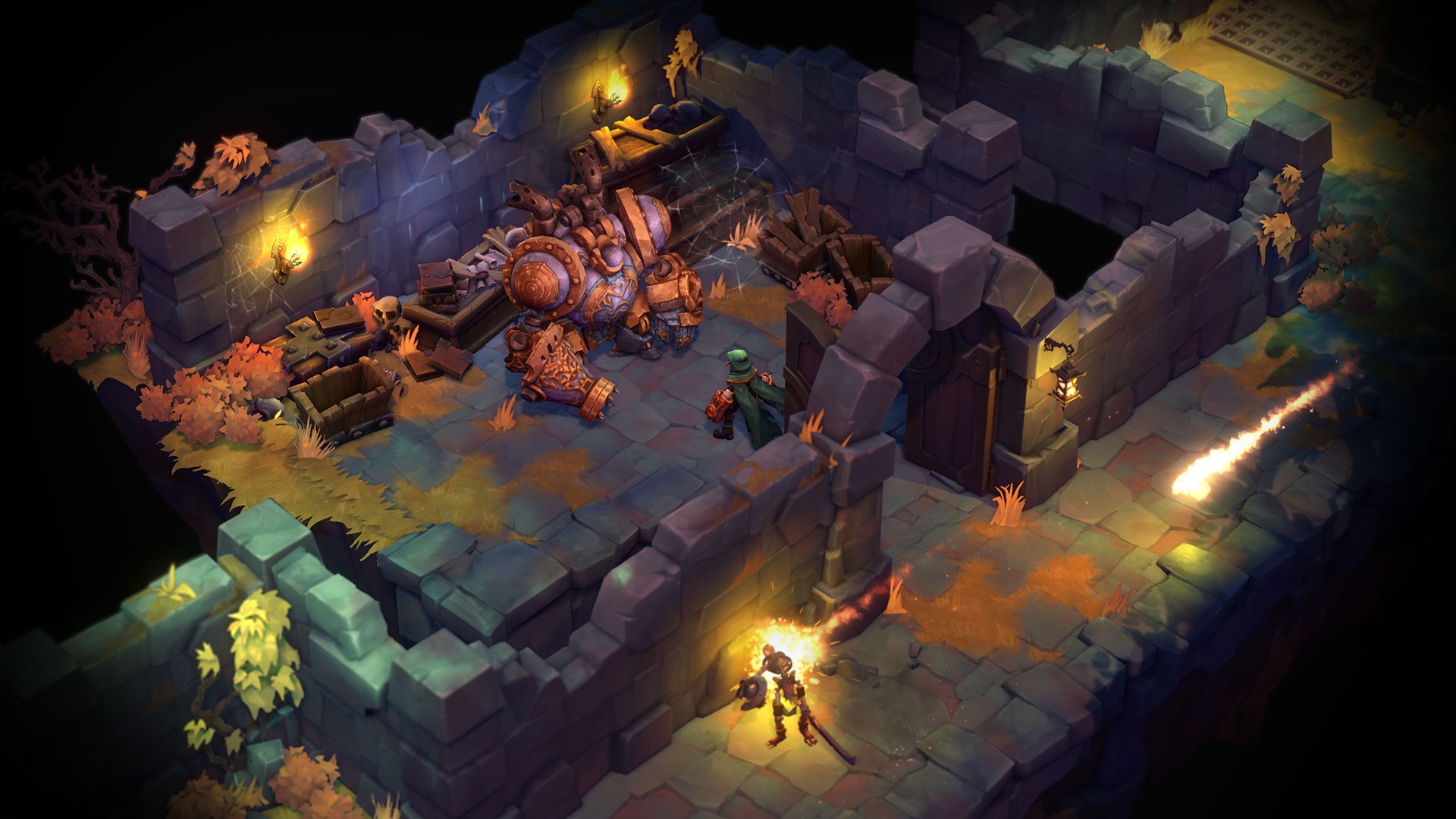 With so many games hitting Xbox One every week, it's difficult to keep track of them all. They aren't always blockbuster titles, but they can provide unique experiences that you wouldn't typically get from AAA studios. Some of these games you may not have even heard of before. This time, I've reviewed Battle Chasers: Nightwar, JYDGE, and N++.
---
First starting out as a comic series in the 1990s, Battle Chasers has made its way to the video game realm thanks to developer Airship Syndicate. It's easy to see some of the influence from classic series like Diablo in its top-down isometric gameplay. If you're unfamiliar with the genre or don't play it often, Battle Chasers is accessible to newcomers as it isn't overwhelming or intimidating. The story revolves around a group of warriors in possession of powerful gauntlets left behind by the father of one of them after he vanished. The world is full of diverse characters and enemies encountered along our heroes' journey. It's essentially a typical fantasy narrative and hits a lot of the beats that you would expect, accompanied by good voiceovers that sometimes sound a little too stereotypical for their character. You walk from location to location along specific paths in its overworld, defeating monsters and bandits on your way to larger objectives, like dungeons or exploration areas. These dungeons are randomly generated and contain different traps, loot, and bosses. Its turn-based combat requires that players are tactical and strategize their attacks with up to three characters. These characters have their own unique abilities and can be customized with a variety of weapons and armor, so be sure to check your stats often. I found the menus quite intuitive and easy to navigate, so players should have no trouble keeping track of everything in the game. Battle Chasers: Nightwar is an appealing RPG, even if may not fully satisfy hardcore dungeon crawler fans.
8.5/10
Xbox One
---
I recently reviewed a different top-down shooter from developer 10tons named Time Recoil, and while I enjoyed that game, it appears that they've refined the shooting experience even more with JYDGE. Based on Neon Chrome (you guessed it, another top-down shooter), JYDGE takes place in a cyberpunk universe rife with crime. In over a dozen levels unlocked with medals by completing specific objectives, player rescue citizens and defeat hostiles in different areas throughout the city. JYDGE features a ton of customization for your character and weapon. The first augmentation I used was one that automatically zapped enemies with electricity when I was near them, and its effects can be felt during gameplay. Though its combat and amount of customization is a step up from 10tons' previous title, I found JYDGE's graphics to be bland. Neon colors are peppered throughout, giving locations a certain glow to them, but much of the terrain doesn't look like it quite fits the aesthetic of the game. Once you beat act one, hardcore medals can be unlocked making it possible to progress. I don't like that this essentially forces players to play on a harder difficulty in order to beat it. Aside from questionable design decisions, JYDGE is a good top-down shooter.
7.5/10
Xbox One
---
N++
Booting up N++, I was greeted by a screen to press A to start. Anyone who plays games can tell you this is usually how it goes. At this point, I could hope to be jumping into it as quick as possible, however N++ took minutes to load the actual menu. Not a good first impression. Thankfully, this problem did not plague my playthrough every time. Getting past that slight issue, N++ features hundreds of screen-sized platforming levels, some being just downright brutal. It retains the minimalistic design of its predecessor, a staple of the series since its inception over a decade ago. It doesn't revolutionize its formula, but more of the same isn't necessarily a bad thing. There are new devious obstacles to overcome as you use your stick character's physics and momentum to jump, climb, and dodge anything in your way. Though it can take a while to get used to the momentum that your character carries and your playthrough will be full of trial and error, N++ doesn't feel unfair. You are given ample time to complete every section, and more time can be earned by collecting gold, an added incentive to take more risks. If you're feeling really sadistic, you can even create your own hellish levels.
8.5/10
Xbox One
---
All three games this week are strong titles. If you're a fan of JRPGs, try giving Battle Chasers: Nightwar a shot. N++ should satisfy platforming fans looking for a challenge. Lastly, JYDGE has good top-down shooting gameplay and customization even if the graphics aren't impressive.