What happens if catastrophe befalls your Windows Phone? Slap a USB cable on the sucker and hope Zune can bring it back to life? Look up to the sky and pray that the Cloud holds more than precipitation and emails? Or cry hopelessly? Unfortunately, the answer is the latter.
Today I was running with my Windows Phone in what we desert dwellers consider winter (40 degree Fahrenheit or 4.5 degree Celsius weather), and suddenly my HTC HD7, which had Enomondo Sports Tracker open, wouldn't turn on! I eagerly took a well deserved break while I puzzled why my phone wasn't turning on. Suddenly, after a minute of seeing my reflection in the blank screen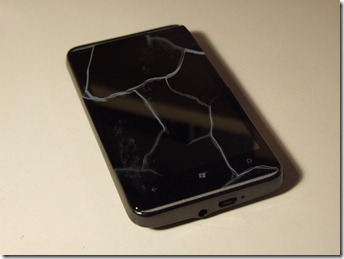 , the HTC logo flashed on. Then, the Windows Phone logo. Finally, the operating system shows up. Wait a second, the phone looks like it did when I first bought it, and all my data's gone! What actually happened is the MicroSD card inside the HTC HD7 wiggled itself loose, causing the phone to turn off and be reborn without any of my data.
I, of course, panicked, and hoped there would be some way to restore my phone! I checked the Settings on my newly stock WP7 device, but there weren't any Restore menus. I checked Zune, but all it wanted to do was befriend my phone and add it as another music syncing buddy. I checked Microsoft's support forums and discovered that there isn't a single way to backup or restore your Windows Phone!
Everything was lost, except my emails, contacts, and calendar, which are stored through my Live account. All of my apps, my personalized settings, text messages, phone call logs, browser favorites, and saved game/app data were gone forever! You can of course re-download all of your apps for free, but that requires you to remember what each one was, and re-find it in the Marketplace. So you are basically hopeless. This shows the drastic need for a way to completely backup our Windows Phones and restore them incase tragedy occurs.
In the scenario I described, my MicroSD card somehow became slightly loose, but once I shook my device some more and then restarted it, everything was back again. Therefore, I would love to know if anyone else who owns the HTC HD7 (or any other Windows Phone with a MicroSD card) has had this happen? And this question goes specifically to people like me who have not swapped their MicroSD cards for a larger one, since you really aren't meant to do that. This is a sign of bad build quality, similar to the loose volume rocker that plagues most HD7's. Elaborate your thoughts on the lack of backup ability and random hard resetting of the HD7 in the comments below!