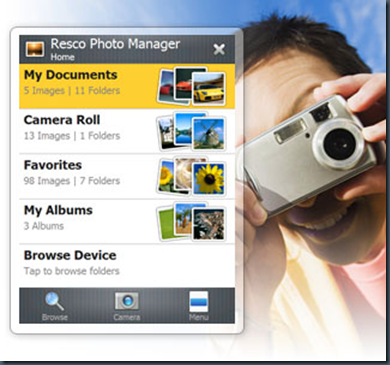 Resco is one of the best software house that Windows Mobile has, well it seems they are still going strong with their apps. The new and updated Resco photo viewer is a faster, smoother and more connected viewer than the previous and the best part is, its still free, for 7 days(If you are a heavy flasher, you know what I mean).
The change log is the best part of the new version:
WM 6.5 registration fixed
Touch friendly user interface
User interface is in new graphic
Add GPS position to any  image and make a diary of your trip
Locate geo-tagged image on map (using Google Maps)
Different skins available
Letter & date navigation bar
Folder content preview
Rotation, navigation and zoom gestures
Double tap image to quickly view detail in original size
GUI animations
Support of G-sensor
Convert image to JPG, PNG and BMP
Text notes can be saved into EXIF
Upload to Facebook, Twitter, Flickr, Picasa supported
Upload image with comment and GPS location
"Photo Manager is a favorite photo viewing program with features far beyond standards of the classic built-in viewer. Users gain functions of complete image management in a modern looking and easy to handle application. Intuitive way of work, outrageous effects and many slideshow and edit features move other image viewing programs to the second line."
The change log brings Flickr(which is one of the first) to your mobile phone. You can get your self one for free(for 7days) at their shop, and look forward for my special software house review featuring Resco and they're wide selection of apps.