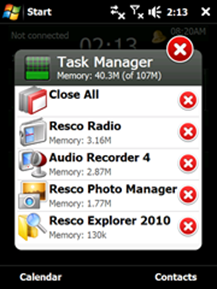 Resco software house, is a well known software maker for Windows Mobile, and their popular file Explorer was just updated. Yes, the popular Resco Explorer just got updated, and this version comes with some really great new features:
Image Upload to Facebook, Flickr, Twitter, Picasa, MySpace and Photobucket — the program is now able to upload image files to the most popular social networks including the largest web image database — Flickr.
Thumbnails View Mode — The new view mode displays previews of images. It becomes handy (improves the navigation) while seeking in folders with many image files.
Interaction with Resco Photo Manager — The new Explorer can utilize tools and strengths of Resco Photo Manager. If users have both of these programs installed on a device, they will sense that the thumbnail loading is faster as well as the fact that it supports all the photo manager image types.
Totally Customizable Today Plug-in — Today plug-in gets new shape and becomes totally customizable — add or remove phone tools, applications or documents. The eventual size of the plug-in, therefore, depends only on your choices.

That seems like some great features that I cannot wait to try out and you can try out your self by visiting Here.