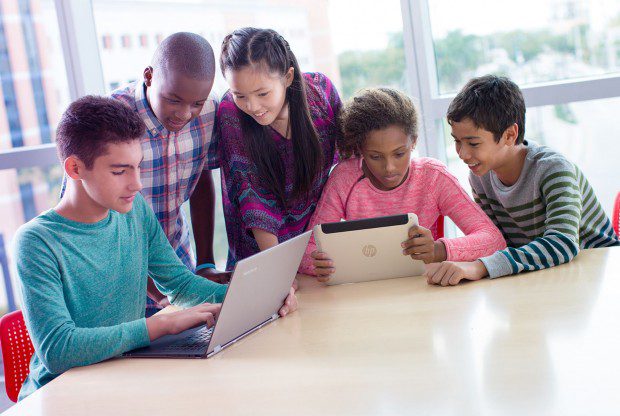 Microsoft has been on a mission to empower every student and educator to achieve more. This has been evident in the latest report published by Futuresource-consulting which shows an increase in PC shipments in the first quarter of 2018. According to the report, 5.8 million PCs were shipped in Q1 2018 which is a 4% YoY growth.
Global sales of Mobile PCs into the K-12 sector increased in the first quarter of 2018, with shipments growing 4% year-on-year, reaching 5.8 million units, up from 5.5 million in the first quarter of 2017. The largest growth came from the Asia Pacific and European regions. The slowdown in the rate of growth can be primarily explained by a smaller number of projects happening in the Middle East and Africa and Latin American region, which declined 41% and 14% year-on-year in unit terms respectively.
The major increase in demand was seen in the Asia Pacific and European regions while a decline in shipments was seen in Middle East, Africa and Latin American region. With the increase in shipments, the demand for Windows has also increased. Microsoft Windows is leading the OS battle with Google's Chrome OS positioned on the second place. However, Chrome OS has been leading in the USA market. The report also indicated that plenty of schools are now switching from Windows to Chrome OS.
 The Canadian and Benelux markets, as well as advanced markets of Northern Europe and Australasia, are each seeing the rising adoption of Chromebooks in schools. Globally, the Chrome OS accounted for 29% of mobile PC devices shipped to K-12 schools in Q1 2018.
Eran Megiddo, Corporate Vice President of Education at Microsoft, shared some insights on how Microsoft is trying to help schools switch to Windows and use it in the class. One of the most useful app on Windows is OneNote as it allows students to take notes easily.
A great example is OneNote class notebook, where the focus has been on how we save teachers time, time from distributing assignments, and collecting assignments, and grading assignments… By really spending the time in the classroom with teachers and understanding the needs and focusing our solutions on that, vs just providing tech into the classroom and getting it deployed, that's what I think is fueling the growth in our marketshare.

It has to start with helping kids learn. What's first and foremost is doing what we can to bring the technology that's around us into classrooms and into homes, and helping those kids learn and helping them achieve more in life. I think it goes back to the partnerships that we have with the students, with the teachers, with the educators. That partnership of spending time and focusing on the needs of students is the differencing aspect of just making the technology available.
Another app that's gaining traction among the educators is Microsoft Teams. It allows schools to have different channels for different classes and let students connect with teachers easily.
We measure our success when we are impacting learning outcomes. Not just based on how much software or hardware we've deployed. That's what success is to us and by using that feedback we build into our product strategy, that is what is driving our success in the market.
The competition in the education sector is increasing every day. Apart from the usual competition from Apple and Google, other OEMs are trying to target students with attractive offers and budget devices. It's high time for Microsoft to launch an affordable Surface device to counter the competition and strengthen their existence in the market.
Source: Futuresource-consulting; Via: OnMSFT