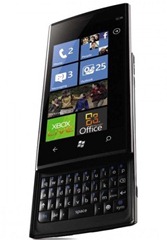 The Dell Venue Pro just cant catch a break.  First pre-production units shipped out with all kinds of WIFI and other issues, and now the replacement units for these handsets appear to have anew problem.
Dan Seiden writes:
Just wanted to drop a note to you.. I got a call about replacing my Engineering Sample Dell Venue Pro over the weekend. I had not been having to many issues with mine but they had replacement units in and I went down to the Microsoft store. After getting there they exchanged my phone and I thought I was going to be happy with a newer unit that seems to have a slightly better build. Popped my SIM card in there and was faced with a SIM card error message. Having lots of phones I figured the card was not seated and opened it up and reseated it. Well to make a long story short.. I tried three different SIM cards in two other units and none of them would take the card. Getting home and looking over the forums it seems this was happening with all the units that had gone out. Seems like someone at Dell is going to be getting fired..
Indeed a quick look at the associated XDA-Dec thread shows that numerous people are having the very same issue, with the device complaining of an incorrect SIM card after being rebooted.
All we can day Dell is letting down the site terribly, and the device is rapidly going from the most desirable to one one should avoid at all cost.
Read the XDA- Dev thread here.