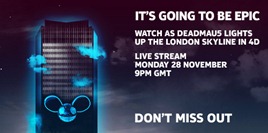 If you are in London tomorrow (28/11/11) you could do worse than grab an eyeful of the spectacle which will be Deadmau5 playing a killer DJ set and also using a combination of projectors and computer imaging to light up the Millbank Tower with roller coasters, Tetris-style structures and giant butterflies (and presumably a Nokia Lumia 800 or two).
For those in UK, Millbank Tower is on the embankment between Vauxhall and Lambeth Bridge and not far from the London Eye. Bing Maps Link.
The event starts at 9 pm and will also be live streamed.
Read more at Nokia's Facebook page here.