At the Reliance Annual General Meeting today, Chairman Mukesh Ambani announced that Jio network will launch to the general public on September 5th. Both voice and data will remain free till end of this year for all the users as part of  the new JIO WELCOME OFFER. From January 1st next year, the commercial plan will come into effect. Highlights from the today's announcement.
Voice calls will be completely free.
Jio Apps subscription worth Rs 15,000 will also be free until 31st December of 2017.
No charges for national roaming.
Any student who has a valid ID car will get the benefit of 25% more data on Jio's main tariff plans
Rs.50 for every 1 GB of data.
Unlimited data during at Night.
By the middle of the next year, they will have 1 million wi-fi hotspots across India.
Starting in select cities, Jio is rolling out a fiber to home wireline network
Any customer carrying an Aadhaar card will be able to walk out of a Jio store with a working connection within 15 minutes. They are rolling out this new Aadhaar based eKYC process in the coming weeks across all Jio stores in India.
He also revealed the tarrif plans, check it out below.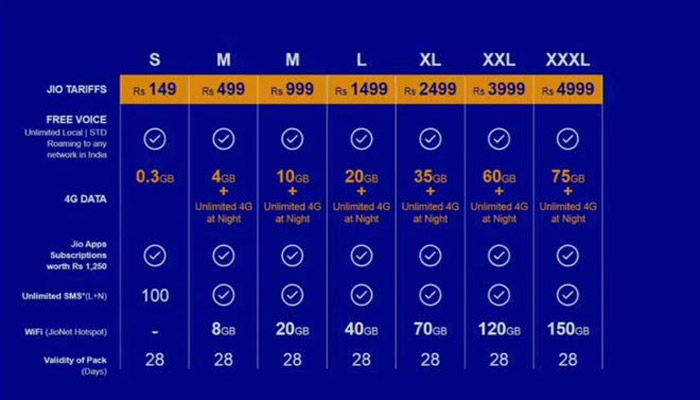 "The era of paying for voice calls is ending," Mukesh Ambani said. "Jio makes India the highest quality and lowest data price market in the world, you will pay only Rs 50 for every GB that you use. The more data you use, the lower the rate," he said. "I believe these are the absolute lowest data rates anywhere in the world." Reliance Jio is targeting to acquire 100 million customers and plans to set a new record. Following these announcements, the stocks of Airtel, India's largest telecom provider fell nearly 20%.
Home to the world's second largest population of 1.2 billion, India is a young nation with 63% of its population under the age of 35 years. It has a fast growing digital audience with 800 million mobile connections and over 200 million internet users. Jio's latest entry into the market will surely create a digital revolution in India in the coming years.