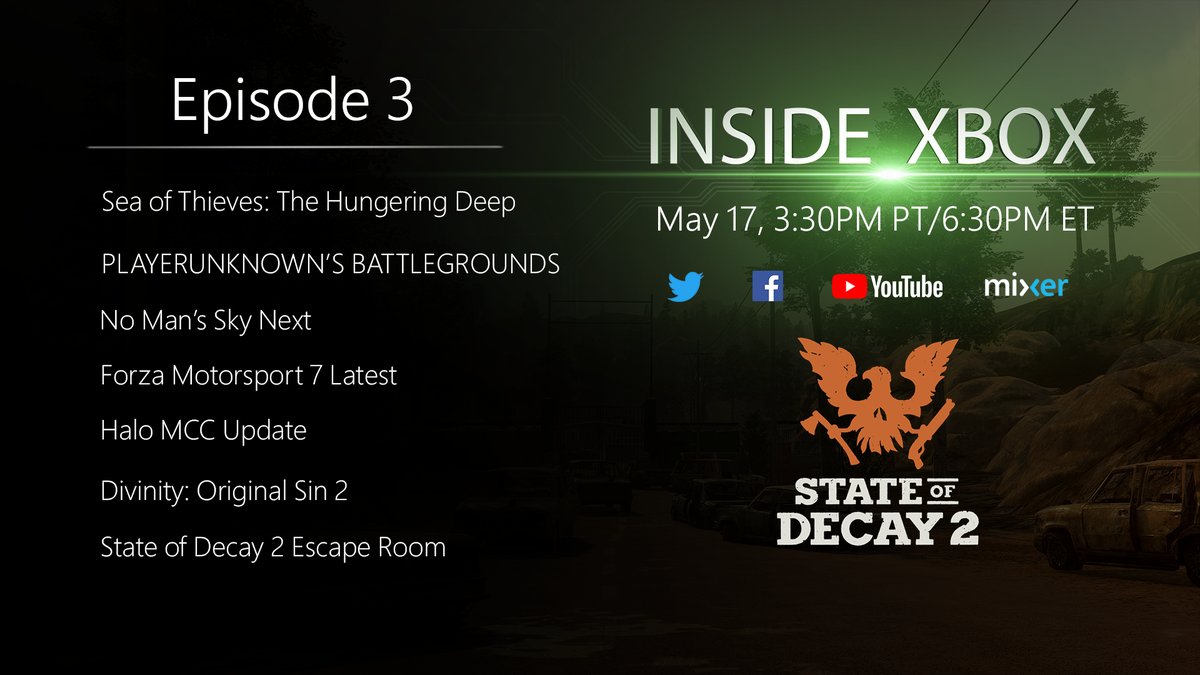 Inside Xbox Episode 3 was packed with announcements including some much-awaited release dates for upcoming Xbox content. The team at Undead Labs also gave us another in-depth look at State of Decay 2. 343 then swung by and announced… a Halo arcade game. Surprise?
Near the beginning of the show a short trailer—which can be viewed here—for Sea of Thieves' first major content expansion, The Hungering Deep, was showcased. Players won't have to wait too long for it as The Hungering Deep is launching at the end of this month on May 29.
Shortly before that, the PlayerUnknown's Battlegrounds map Miramar will be releasing for everyone in the game on May 24. The map will launch with a title update that improves the overall performance and experience of the game.
Sean Murray stopped by to discuss No Man's Sky's imminent release on Xbox One. He finally revealed that it would be coming to Xbox One on July 24, 2018 with a "full multiplayer experience" so you can play with friends. It is set to debut on Microsoft's console with the massive NEXT update.
The near the end of the show, 343 Industires dropped a surprise. An actual Halo arcade experience will be launching this summer first at Dave & Buster's. Titled Halo: Fireteam Raven, the 4 player co-op experience puts players in the shoes of an elite ODST squad.
As for the Master Chief Collection, the team also gave an update on how development is going forward. You can read more about their plans here.
Some other segments of Inside Xbox Episode 3 discussed the new Xbox Adaptable Controller that was unveiled today, new features in Forza Motorsport 7 such as Time Attack, and the custom Black Panther Xbox One X.