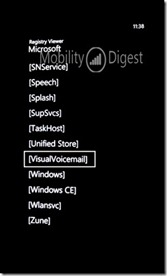 David K from MobilityDigest have been rooting around the Windows Phone 7 registry using some of the developer unlocked tools released a few weeks ago.
He notes that the Windows phone 7 registry is a lot smaller and less complex than the one for Windows Mobile 6.5, but still contained some interesting references to features such as VOIP, Clamshell devices and Visual Voicemail.
Of course these could be left overs from the Windows CE registry that forms the basis of Windows Phone 7, but with the registry otherwise so optimised there is some chance these features will activated with updates soon.
Read more at MobilityDigest here.