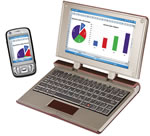 The Redfly Mobile Companion by Celio seems to be doing much better getting market acceptance than Palm's aborted Folio attempt. The Washington Post has today put up a review of their experience with the Windows Mobile desktop extender, and overall they seem rather positive about it.
The Redfly's bright 8-inch wide, 800-by-480-pixel display is impressive: Several times while using it I forgot that a device sitting several feet away was powering everything. The Redfly is specced to run for 8 hours or more on a lithium polymer battery; it can even charge your phone when connected.
They conclude:
Road warriors may appreciate the Redfly's flexibility, though. Plug in a monitor, a standard USB keyboard, and a scroll-wheel mouse and close the Redfly's lid–and you have a smart-phone docking station. If used in this way, the Redfly could function as an all-in-one mobile workstation. It also supports USB flash drives, as well as infrared and Bluetooth peripherals such as printers. Celio designed the Redfly with mobile corporate users in mind–members of sales teams or other groups who need to conduct meetings or presentations–and the device reflects this. The Redfly is small, light, and portable, and different users can pass it around quickly. But small-business owners and frequent travelers may find value in the Redfly as well.
Read the full review here.
Of note is that the laptop-like user experience appears to be quite good on the Redfly, and when one bears in mind that its merely the Windows Mobile UI expanded to 800×480 resolution and a large screen, this does seem to suggest that Windows Mobile-based Mobile Internet Devices may have a place in the market after all.