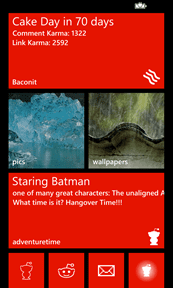 The Baconit team has announced that their Reddit client has hit version 2.5 and will soon be available for Windows Phone 8.
The app has been submitted for certification and features an overhaul of the back-end which should improve performance and manageability, and a number of Windows Phone 8-specific features, such as being able to grab lock-screen wallpaper from any sub-reddit, and various live tile sizes, and also adaptations for high resolution displays.
The full changelog includes:
Windows Phone 8 Support!
Lock screen wallpaper from any subreddit
Lock screen notifications
New live tiles for Windows Phone 8
Tap + Send support
New social network sharing
New animations
High resolution images
Fixes to flip view to use less memory and have better performance ?
Completely rewritten back end which improves performance of entire app
Follow Baconit on Twitter, and like Baconit on Facebook to be informed the minute the update becomes available.
Via Reddit.com