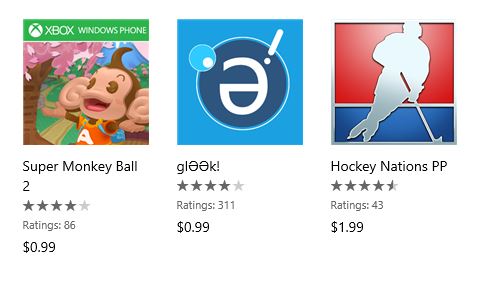 This week's Red Stripe Deals is now live in Windows Phone Store. We have got Super Monkey Ball 2 Xbox game, Hockey Nations PP indie game and Gleek twitter client under discounted prices.
Super Monkey Ball 2:
Super Monkey Ball™ is back. Everyone's favorite monkeys keep the ball rolling with this exclusive version of the arcade to console classic for your smartphone.
Roll around the Far East, as you tilt and steer one of four adorable monkeys through 125 themed mazes and a beautiful world of cherry blossoms. Just grab your bananas along the way to earn extra lives before time runs out. It's so easy to play, even a monkey could do it!!
Download it here.
Hockey Nations PP:
Hockey Nations Powerplay is a game for Hockey lovers.
Pick your team from 18 country teams or play as your favorite local team from anywhere around the world by customizing one of the 40 city teams. Boasting 6 game modes from Exhibition to World League, Hockey Nations Powerplay will turn any puckhead into an ice warrior worth keeping your eye out for.
Download it here.
gl??k!:
gl??k! is one of the most fully featured Twitter client on Windows Phone Store.
Download it here.
Check it out here.