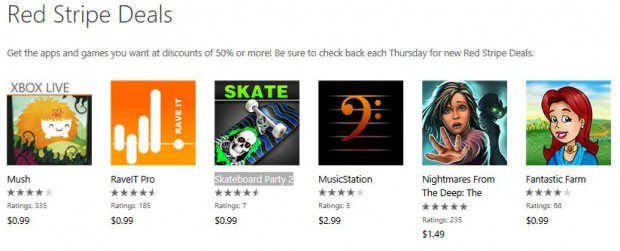 This week's Red Stripe Deals is now live in Windows Phone Store. As you are aware of it already, Red Stripe Deals program has been now expanded to include 6 apps/games from 3 apps/games before. This week's deals include 1 Xbox game, 3 indie games and 2 music apps. Find the list below for their deal prices and Store links.
Mush – $0.99
Discover the emotions in this award-winning exclusive, a quirky puzzle adventure that lets you change how your character feels! Touch, tilt, rotate and shake up Mush to alter his mood. Gain new abilities, evade beasties and solve puzzles as you tumble through unique and beautiful worlds!
RaveIT Pro – $0.99
RaveIT is a beat making machine, create your own music and save it as .wav or ringtone!
Skateboard Party 2 – $0.99
Skateboard Party 2 brings all the fun of skateboarding to your mobile device allowing you to ride in 8 completely unique locations. Jump on your board, learn new moves and improve your skateboarding skills to land sick combos.
MusicStation – $2.99
MusicStation is a tool designed to find scales and chords through four search modes:
By notes, by type, by root and by guitar position.
It features no less than 63 scale types and 59 chord types!
Nightmares From The Deep: The Cursed Heart (Full) – $1.49
You are a museum owner pursuing an undead pirate who kidnapped your teenage daughter. You quickly realize that the pirate is entangled in a tragic, centuries-old love story and wants to resurrect his mistress with your daughter's life force. There's nothing left to do but leave the safety of your modern museum for wild and haunted pirate territory that hasn't seen a living soul in three centuries!
Fantastic Form – $0.99
Ever wondered what it's like to run a magical farm? Maggie, fresh out of the School of Magic, has just taken over her parents' farm, and is now being threatened by a sinister business man. To help her succeed, build your small farm into a prosperous enterprise. Grow plants, care for the animals, and operate magical machines to produce sweaters, pies, ice creams and much more!
Source: Windows Phone Store