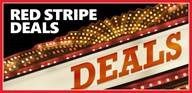 Microsoft has announced a new initiative which will deliver discounted Windows Phone software once per week.
The deal will feature 3 apps and games each Thursday, typically one Xbox game, one indie game, and one top-rated app—for at least 50% off the original price.
The first software featured are Runtastic PRO, Assassin's Creed: Altairs Chronicles HD, and King Oddball—all for just $0.99 each.
The discount will expire next week when the apps are replaced with a new collection, so if the apps tickle your fancy grab them fast.
Keep an eye on the Red Stripe Collection page here.