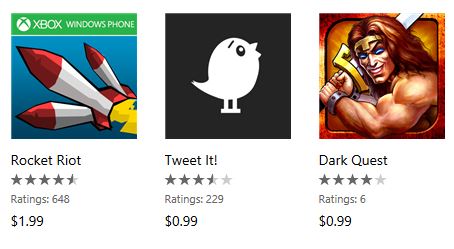 Red Stripe Deals for this week is now live in Windows Phone Store. Xbox game Rocket Riot, Twitter client Tweet it! and indie game Dark Quest are available on new deal prices.
Rocket Riot:  
Strap on your bazooka soldier, and get ready for the new and improved mobile version of the awesome action-packed side-view shooter Rocket Riot™. In this highly stylized eight-bit era style game, blast your way through the environment against the strangest enemies you will ever encounter. Navigate through a completely destructible environment, uncover special power-ups, or even burrow into different areas of the map. The map regenerates, keeping the action fast-paced, but time doesn't heal all wounds.
It costs $1.99 and you can download it here from Windows Phone Store.
Tweet It!:
Combining beautiful animations, clean UI and powerful features giving you full Twitter experience. Reimagine your timeline with support of inline images, YouTube video preview, powerful gestures and tons of features like "Street Mode".

Post your thoughts instantly! Don't worry about long links! They will no longer take more than 23 characters of the tweet. Post what you are currently listening with "#nowplaying" feature. Search tweets and see current trends. Browse your lists.

Do it more quicker with pinable tiles!
It costs $0.99 and you can download it here from Windows Phone Store.
Dark Quest: 
Dark Quest is a turn based fantasy role playing adventure game where players assume the role of a mighty barbarian on his epic quest to destroy the forces of the evil sorcerer and save the land from evil.

An evil sorcerer has appeared in the lands, he has built a dungeon in the nearby village of faladir, where his minions use it as a base to raid the surrounding villages to bring terror and death to all its citizens. A hero by the name Zantor dares to defy the powers of the sorcerer and seeks to destroy the dungeon and put an end to this.
It costs $0.99 and you can download it here from Windows Phone Store.
Check out the deals here.