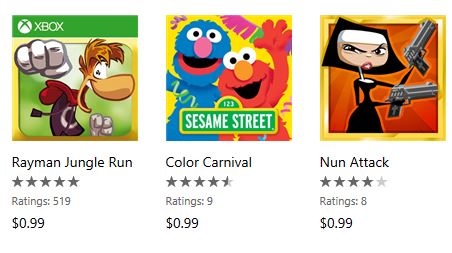 Red Stripe Deals for this week is now live in Windows Phone Store. Xbox game Rayman Jungle Run, indie game Nun Attack and Color Carnival (Sesame Stre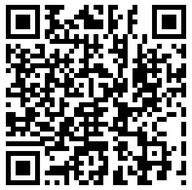 et) story book are now available for a discounted price of $0.99 in Windows Phone Store.
Rayman Jungle Run
The legendary platforming hero is back in a brand new adventure. Join Rayman in 70 gorgeous levels and try to bring as many lums as you can.

New powers to unlock as you progress: jump, punch, fly, run on wall… 7 worlds to discover each with their own atmosphere and gameplay.
Unlock the challenging land of the livid deads levels if you have the skills. Play the game as Rayman or Globox
Download it here from Windows Phone Store for $0.99.
Color Carnival:
Join Elmo in an interactive read-aloud experience!

Romp through every color of the rainbow and many more, as Elmo and friends visit a very colorful carnival. They call out many colors and also invite toddlers to find and name others that aren't mentioned, making this color-filled book both fun to read and a learning experience as well.
Download it here from Windows Phone Store for $0.99.
Nun Attack:
Days have gone by uncounted since the power-thirsty Fallen Nun has taken over the mortal world, spawning evil all over. In a world where Evil is taking over and prayers are no longer answered, there is only one type of divine intervention left, and it's armed to death.

Join the battle of light against darkness. Lead your squad to defeat the Fallen Nun and restore balance to the World in this epic tactical action game!

Nun Attack delivers hours of hellish entertainment through exciting gameplay mechanics, intuitive touch screen controls and tongue-in-cheek character dialogues! Explore multiple worlds, equip your nuns with the most badass arsenal, level them up and fend off waves of enemies and bosses, beating some holy into hundreds of demons.
Download it here from Windows Phone Store for $0.99.
Find the deals here in Windows Phone Store.