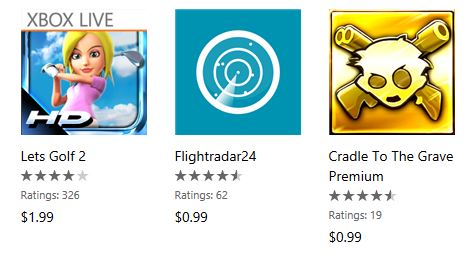 This week's Red Stripe Deals in now live in Windows Phone Store.
Lets Golf 2 – $1.99:
Looking for a faster, more colorful and fun golf experience? Then this newest edition of the popular Let's Golf series is just the thing you need for the most exciting golf adventure you'll ever find!

A GAME WITH CHARACTER Liven up the sport with 8 fun characters, fully modeled in 3D. Customize your golfer with a selection of gear and clothes you can unlock to improve your skills.

GOLF AROUND THE GLOBE Discover 108 holes of golf across 6 varied locations like Mount Olympus Golf Club, Aztec Temple, a Winter Wonderland in Greenland, a tree-filled Bavaria, the spectacular English Countryside and even the wild Royal Safari in Kenya. Each spot has its own challenges to overcome that grow in difficulty.
Download it here from Windows Phone Store.
Flightradar 24 – $0.99:
Turn your Windows Phone into an air traffic radar and see airplane traffic around the world in real-time. Discover why millions are already using Flightradar24.
Flightradar24 is, or has been the number one travel app in more than 50 countries including Germany, France, United Kingdom, Japan, and Australia. We are frequently featured in the media and recent media mentions include Bild (Germany), Le Monde (France), and CNN (US).
Download it here from Windows Phone Store.
Cradle To The Grave Premium – $0.99:
Cradle To The Grave features a whole new style of tower defense gameplay where players take control of the weapons they own, upgrading and crafting new items throughout the 50 levels of gameplay. With 100's of weapon possibilities, players are challenged to craft new items and create a wall of destruction against would be evil-doers.

The game features a deep crafting mechanic, multiple enemy types and variations, and an amazing visual style unlike anything else. Adding to the gameplay is a full leaderboard system, which allows players to log in, post their scores, and best of all connect with friends socially.
Download it here from Windows Phone Store.
Source: Windows Phone Store