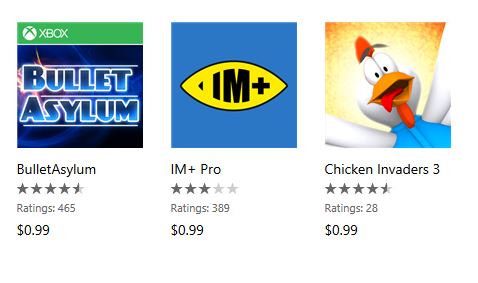 This week's Red Stripe Deals in now live in Windows Phone Store. BulletAsylum Xbox game, IM+ Pro chat client
And Chicken Invaders 3 indie game are now available for just $0.99.
BulletAsylum:
Annihilate invaders with a wall of firepower in this insane arcade shooter.
BulletAsylum delivers over-the-top action, melding classic gameplay with next generation visuals and mechanics. With an insane amount of firepower at your fingertips, vibrant graphics, and an all-you-can-shoot buffet of alien hordes to destroy, BulletAsylum will blow you away.
Download it here from Windows Phone Store.
IM+ Pro:
Chat in Skype, Facebook, Google Talk, AIM, Yahoo!, ICQ, Jabber, VKontakte, Yandex IM, Mail.ru Agent, Odnoklassniki.ru, Mamba, Fetion, RenRen, Sina Weibo, Mig33, Gadu-Gadu, MeinVZ, Beep and MSN/Windows Live.
Download it here from Windows Phone Store.
Chicken Invaders 3 :
Chickens. For centuries we have oppressed them, grilling, roasting, stewing, and stuffing them in buns. The time has come for us to pay. Intergalactic chickens are invading Earth, seeking revenge for the oppression of their earthly brethren! It's time for you to fight for our ancestral right to omelettes. Will you succeed? Will the future of chicken burgers be secure? Or will you end up as part of the menu in a galactic chicken restaurant?
Download it here from Windows Phone Store.
Check out the deals here.