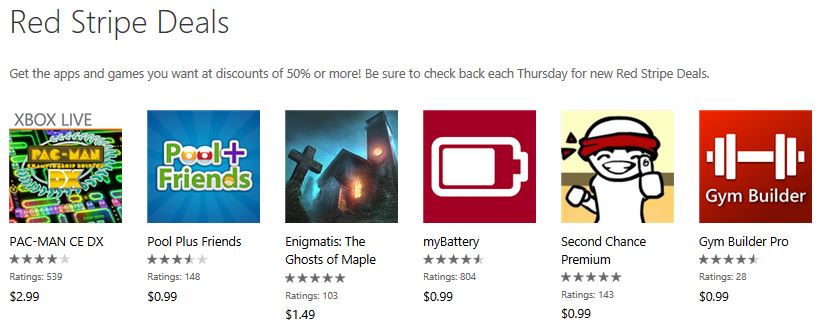 Red Stripe Deals for this week is now live in Windows Phone Store. It includes one Xbox Live game, 2 indie games and 2 utility apps.
Find the Windows Phone Store links and their deal price below.
PAC-MAN CE DX – $2.99:
PAC-MAN Championship Edition DX, which is a best-seller on Xbox LIVE Arcade, now appears on the scene on Windows Phone 7! It is optimized for Windows Phone 7, but its exhilaration and addictiveness are still there!
Mazes are changing continuously!
Pool Plus Friends – $0.99:
Pool Plus Friends is a fun MULTIPLAYER pool game. Challenge online players to a friendly game of pool. Multiple Robots and Challenges allow you to practice your skills against a range of difficulties.
Enigmatis: The Ghosts of Maple Creek (Full) – $1.49:
Let one of the most thrilling adventures of your life begin!

Imagine waking up after a powerful storm as the sun goes down. You find yourself just outside a small town on the side of the road. A shiver runs down your spine as your body remembers the recent dramatic events that your mind cannot or will not recall…
myBattery – $0.99:
Do you want to see your battery level in the live tile or on the screen saver?
NOW YOU CAN.. with the best app in the category!
Second Chance Premium – $0.99:
32 games of 5 seconds! Test your brain and reflex skills in this frantic game!
Gym Builder Pro – $0.99
Track you weight workouts at the gym with this simple, yet complete app. Designed for and ease of use, the attention to detail in the app is second to none.