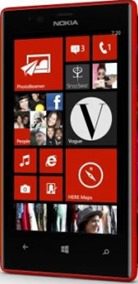 O2 has announced that they will be carrying the Nokia Lumia 720 this April.
Amazon has earlier pegged the release date as the 8th April 2013.
The handset will be available in Black and Red, and the red colour will be exclusive to O2.
The handset will retail for only £260, which is a pretty attractive price.
The 9mm handset is Nokia's thinnest and it has a very good 6 megapixel camera and a 4.3 inch screen.
Via 3g.co.uk.