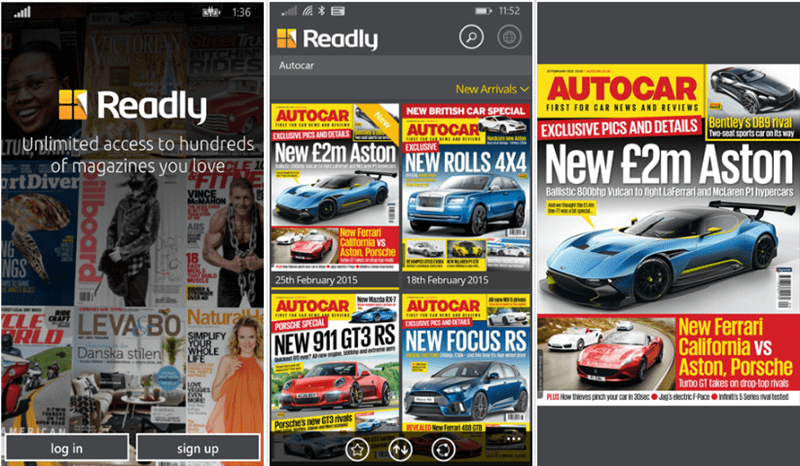 Magazine subscription service Readly has just released an official Windows Phone app.
The service gives access to more than 800 magazines world-wide, including 10,000 back issues, for only £9.99 per month.  Publications include Rolling Stone, Women's Health, ESPN The Magazine, Men's Health, Saveur, Popular Science, Prevention, Men's Journal, and more.
The service can support up to 5 devices with one account, meaning you can share the flat monthly fee with quite a few family members and the app supports off-line reading.
The app features:
Unlimited access to a collection of over 10.000 issues (including back issues) for all of your interests, from entertainment to health/fitness, automotive to food/drink.
Search for any topic (like "workouts" or "recipes") across our entire database of content to find what you're looking for faster. Search within a magazine, category, or across all magazine titles.
Share your subscription with your family —up to 5 devices with one account.
Start reading within seconds while streaming content or download the full issues for later (offline) reading.
Do more with Readly—zoom and pan around photos, click on active web links, favourite magazines, and bookmark articles and share it with your friends through Facebook, Twitter and Email.
The service comes with a no-commitment 14 day free trail and you can try it without having to give a credit card number.
In my testing the app is very smooth, pages load quickly, though lacking the "flip" animation available on tablets, and while reading will involve a lot of scrolling and zooming, found the pictures to be amazing "glossy magazine" quality which makes it all worthwhile.
Try it now by downloading it from the Windows Phone Store.
See a demo video of the service below.