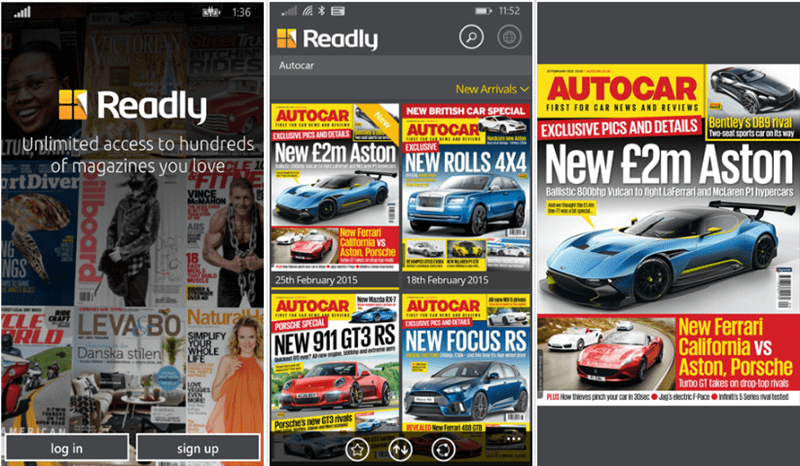 Readly is a UK magazine subscription service akin to Netflix but for magazines. The subscriptions usually run for the price of £9.99 a month for over 900 articles. Not a bad bargain for frequent magazine readers.
While the app normally has a 2 week free trial, it's adding an extra 4 days for this bank holiday weekend so readers can get to try the app for longer to decide if they like it.
Because we've made so many changes to the app, and added so much more new content we're opening up the app for 4 days this bank holiday weekend so that you can experience the new Readly app and everything it has to offer.
Here's what the app offers:
With top UK titles like Top Gear, OK!, Grazia, Marie Claire, Heat, FHM, BBC Good Food, NME, Empire, Lonely Planet, Saga, LivingEtc, Focus and many more – all included in your Readly membership, Readly is the best way to read your favourite magazines on tablet and mobile.
Download the award winning Readly app now and enjoy unlimited access to over 900 magazines at your fingertips. Browse the latest and back issues on up to 5 devices – perfect for the family to share.
Start reading magazines instantly or download them and read offline – anywhere, anytime.
Sign up today for two weeks FREE membership, no commitments, no credit card required.
Reasons why thousands of readers join Readly everyday and love it:

* Unlimited "All you can read" access to 900+ magazines (including back issues)
* Easy to use, quick and offer best reading experience
* Works on tablets, mobiles or desktops – even without an internet connection
* Read all your favourite magazines in one place!
* Share Readly membership with your family – up to 5 devices with one account
* Do more with Readly – zoom, click on web links, bookmark articles, share it with friends and more
* New titles are added every day – our selection of magazines is growing fast!
Sound enticed? If you aren't yet, we'll be doing a review of the app in the coming weeks so stay tuned.
Readly is a universal app so you can get it free from the Windows Phone store and the Windows store as well.