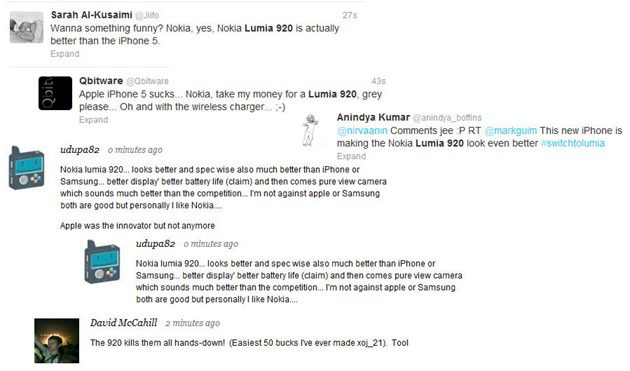 Here are some reactions to Apple's latest iPhone 4.5S 5.
The Telegraph notes:
There is nothing here that leaves the Galaxy S3, the HTC One X or the Nokia Lumia 920 looking dated or out of touch.
Laptop Magazine observes:
With a 4-inch, 1136 x 640 display and 326 pixels per inch, the iPhone 5?s Retina Display is still one of the sharpest screens on the smartphone market. However, it falls short of the Nokia Lumia 920, which features a 4.5-inch 1280 x 768 display, (332 PPI)…

Connectivity-wise, the iPhone 5 marks the first time iPhone users get 4G LTE connectivity. This is essentially old hat for Android and Windows Phone devices, which have been using 4G LTE for quite some time now. Also, the iPhone 5 lacks NFC, a feature available on all the other devices in our chart below.

The iPhone 5?s cameras also get a bit of an upgrade, with the front camera now capable of shooting 720p video. The 8-megapixel rear-facing shooter takes up 25 percent less space than the one found on the iPhone 4S and features a new dynamic low light mode, sapphire crystal lens and next-generation ISP to enable noise reduction and 40 percent photo capture. Its biggest competition will come from the Nokia Lumia 920's 8.7-megapixel PureView camera. Faked images notwithstanding, this smartphone took some excellent shots.
Gottabemobile notes the iPhone 5 missed wireless charging, NFC, better battery life, iOS6 surprises, and accessories, all things the new Nokia Lumia 920 has.
Forbes writes:
The general consensus after today's iPhone 5 event can be best summed up by the word "meh."

The new iPhone looks almost quaint compared to some of its rivals, both in terms of features and design.

Meanwhile, with upcoming phones like the Nokia Lumia 920 on the horizon, the smartphone wars appear to be taking a new shape.

Nor has Apple boosted its smartphone's resolution, pitting the new iPhone against a higher resolution, higher DPI screen in the new Lumia.

In terms of design, while the iPhone 5 is longer, slimmer, and much lighter than its predecessors, it's simply nowhere near as exciting or colorful as the Lumia line. Perhaps the safe bet here is the right one for Apple – if it's not broken, don't fix it – but however classy looking the iPhone 5 may be, it won't turn heads like it once did.

Apple is playing catch-up to firms like Nokia and Samsung.

With a third player in Windows Phone 8 just rearing its head, the competition has begun to heat up for Apple, especially with neat innovations coming from Nokia like wireless charging pillows.
There is no doubt the new iPhone 5 will sell by the tens of millions, but I suspect there will be a lot of doubt from the buyers that they are using the best handset.