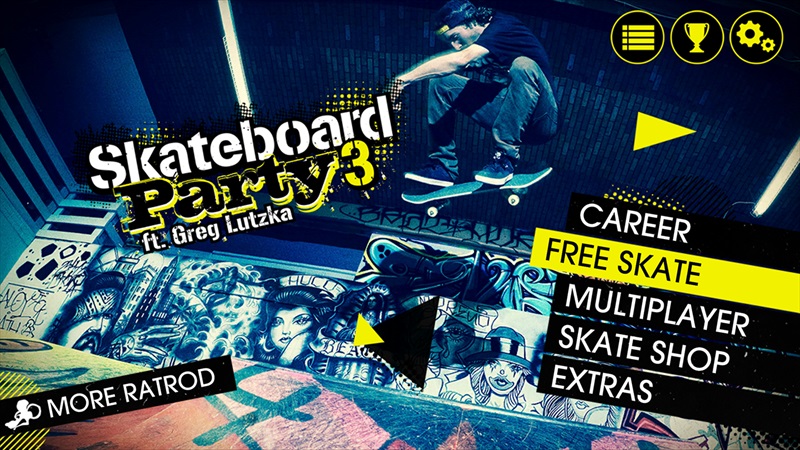 Ratrod Studio, well-known for their Snowboard Party and Drift Mania games, have brought the third installment of their skating game Skateboard Party 3  featuring professional skater Greg Lutzka to the Windows Store.
Skateboard Party 3 brings the thrill of skateboarding to your mobile device! Hop on your board, learn new tricks and improve your skills in 8 completely unique locations. Play with your friends using the online multiplayer mode or challenge skaters from all over the world on the leaderboards. Complete over 70 level objectives and achievements, gain experience and upgrade your favorite skater with the coolest gear. Customize your outfits, shoes, boards, trucks and wheels with licensed brands.
The game is available both as a UWP app and for Windows Phone 8.1 and features:
CAREER MODE Complete over 70 achievements and level objectives to unlock new items and locations. Gain experience to upgrade your favorite skater's attributes to perform better and achieve higher scores.
FREE SKATE Practice and improve your skateboarding skills without any time constraints.
MULTIPLAYER Challenge your friends to a skateboard battle and let's see who can land the baddest tricks!
MASSIVE SELECTION Select between 16 skaters and customize each of them to your preference choosing your favorite gear. A massive collection of outfits, shoes, boards, trucks and wheels are available including items from Osiris, Onnit, Nectar, Jammypack, FKD Bearings and Darkstar.
LEARN TO SKATE There are over 40 unique tricks to master and hundreds of combinations. Follow the new interactive tutorial to get started and progress as you go. Execute the craziest combos and trick sequences to rack up some impressive high scores, gain experience and make a name for yourself.
GAME CONTROLLER Compatible with most game controllers available.
CUSTOMIZABLE CONTROLS New fully customizable control system to configure your own button layout. Use the right or left handed control mode, select a control preset or create your own. Use the analog stick or accelerometer option as you wish. Adjust your truck tightness to change your steering sensitivity.
Skateboard Party 3 supports all the latest generation devices and optimized for high resolution displays, has new fully customizable control system, massive skateboard locations to ride including the OC Ramps Skatepark, Venice Beach, Chinatown, San Francisco, Moscow, a Nature Museum, drainage ditch and Medieval Plaza featuring a mega ramp and lets you customize your skater or board with tons of exclusive content including outfits, shoes, boards, trucks and wheels from licensed brands.
It also has an extended soundtrack featuring songs from Chaos Delivery Machine, We Outspoken, Voice of Addiction, Templeton Pek, Sink Alaska, Pear, Closer and Melodic in Fusion.
See the trailer for the game below.
Find the game in the Windows Store here.
Developer: Maple Media LLC.
Price: $1.99+