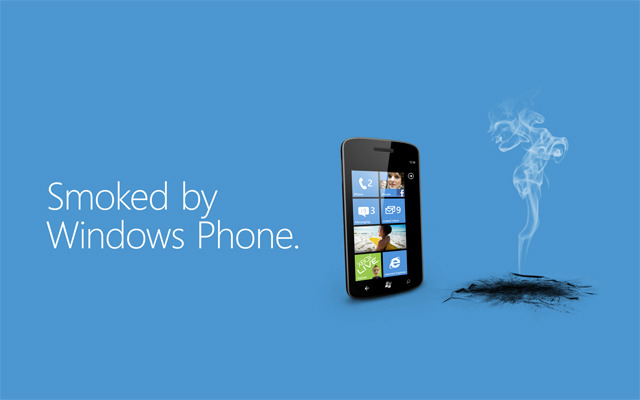 When Microsoft raised the stakes for their Smoked by Windows Phone contest from $100 to $1000 it had predictable consequences – instead of getting regular passers-by confident in their Android or iPhone they had people queuing up with handsets pre-prepared to complete the common tasks.
Sahas from Skattertech writes:
The Microsoft Store employee I was up against then explained the selected challenge. Her exact words were the following: "bring up the weather of two different cities." The one who could do that first would win. I felt like I struck gold since I knew I already had two weather widgets on my home screen: one for my current location (San Jose, CA) and another for Berkeley, CA.

After a three-second count down, I hit the power button on my phone and said "DONE!" out loud. I had disabled the lock screen entirely, which is a rather awesome out-of-the-box feature of Android that takes you straight to the home screen with a single push of the power button. I didn't even need to touch the screen, since the two weather widgets were already there.

My opponent finished a split-second later. She had two live tiles on her home screen displaying the weather of two different cities as well. Why does it take longer on Windows Phone? She had to perform two actions. First, she hit the power button to turn on the screen. Second, she had to swipe away the lock screen. That's pretty much the fastest it gets on that platform. Windows Phone takes two interactions, versus just one on Android.
Sahas was refused the win by the Microsoft Store staff based on seemingly flimsy excuses such as, according to him "need(ing) to display the weather of different cities in different states" and ultimately left empty-handed but with an extremely bitter taste in his mouth.
As we mentioned above, for such high stakes getting handset pre-prepared and set up in an abnormal situation (e.g. no lock screen) is definitely to be expected, and it is probably a good thing the contest will only run over the weekend, but Microsoft may need to either find a better way of preventing the system from being gamed, or handle it a bit more gracefully when they do lose to a well-prepared opponent.
Read Sahas's full account at Skattertech here. Do our readers think Microsoft dealt with him fairly, and was it a good idea to run the contest for such high stakes? Let us know below.
Thanks Bobby for the tip.
Update: Ben Rudolph from Microsoft has responded, saying:
Hopefully Ben will bring  the issue to a speedy resolution.