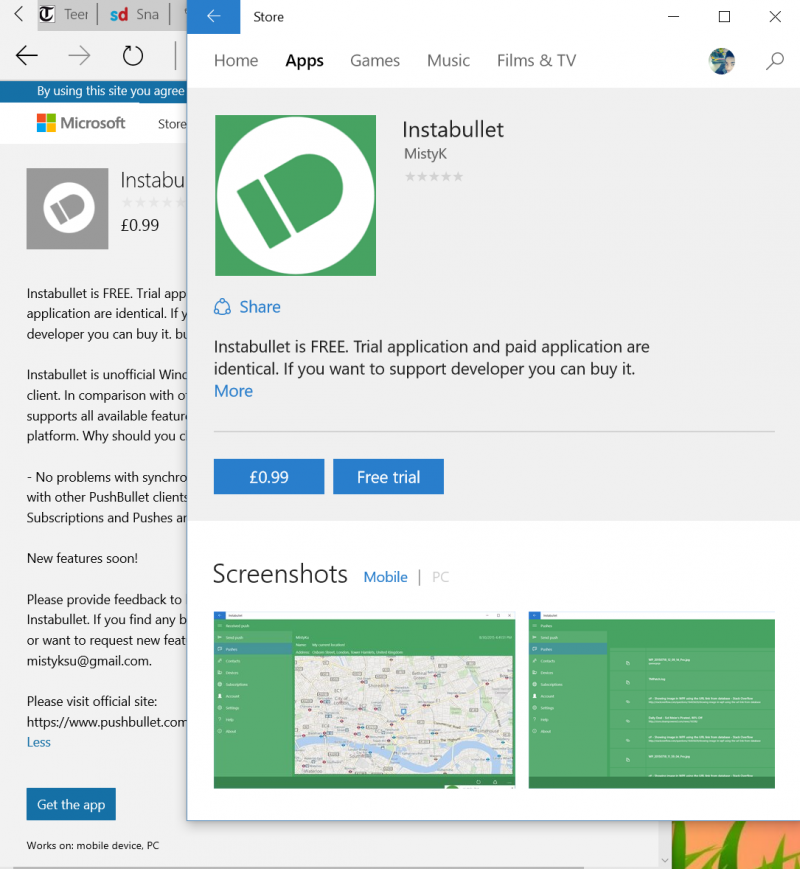 While there is no current PushBullet app for Windows Phone yet, as with many other services, enthusiastic Windows developers have been working to produce third party apps to access these services.
Instabullet is a third party Pushbullet client which launched a few months ago, it has just received a version 3.0 update which has transformed it into a universal Windows app – including changes to the UI and all.
Aside from that, the app now downloads and dispalys images in app as opposed to pushing you out of the app into Internet Explorer, automatic copy and paste has also been implemented.
Here is the updated feature list for InstaBullet from the store listing:
Supports push notifications
Supports adding, editing, deleting for Devices, Contacts, Subscriptions and Pushes

Supports searching channels and subscribing to them

Supports sending Pushes: Notes, Links, Addresses, Lists and all kind of files

Supports sending to all kind of destination types. – Universal copy and paste feature

Supports theming – many themes to match user tastes

Supports replying to pushes

Supports checking channel pushes

Supports sharing pushes content from and to application

Hamburger menu provides fast navigation between pages

Clean UI

Gesture Driven

No Advertisements

Many, many more
The app costs £1.99, but the free trial is actually fully functional and only for supporting the developer (please do). The app developer has posted on reddit requesting feedback on his latest changes, feel free to reply to him on the thread if you wish.
I have to admit, while I'm not a pushbullet user (yet), this new app has piqued my interest. What do you think of the Instabullet app? Let us know in the comments below.