UK retailers will be sending out PS5 games five days before users will have the next-gen console in their homes next month. 
Reported by Stealth Optional, it was noticed that Amazon, GAME and other UK retailers will be shipping out preorders for PlayStation 5 games on November 12th, the American release date for Sony's next-gen console.
This software launch date will see titles such as Spider-Man Miles Morales, Sackboy: A Big Adventure, Demon's Souls and more arriving with no hardware available to play them on. Essentially, these PS5 games will be £69.99 paperweights for five days.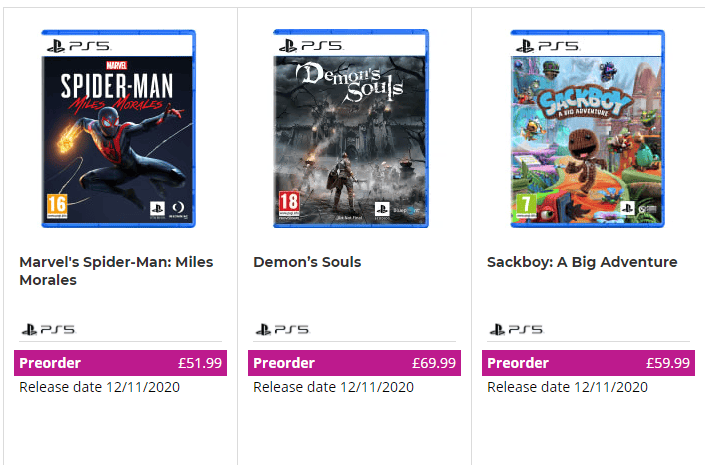 While players in the United States, Japan, New Zealand and other countries will see the PlayStation 5 launch on November 12th, the PS5 release date for the UK and other European countries isn't until the 19th.
The move for physical retailers to ship product on the American launch date is likely due to the increased sales of digital media compared to prior generations. With all of these games available to digitally preorder when the PS5 store goes live on November 12th, retailers need to be able to secure customers physical copies at the same time.
This is in stark contrast to the upcoming launch of the Xbox Series X and Xbox Series S, two separate hardware SKUs that are simultaneously seeing a worldwide launch on November 10th, even in regions like Japan that sees a far lower reputation for the brand.
The November 19th release date for Sony's PlayStation 5 may not even be true for many gamers in the UK as retailers have warned that low unit allocation will lead to some customers not getting their console until next year.