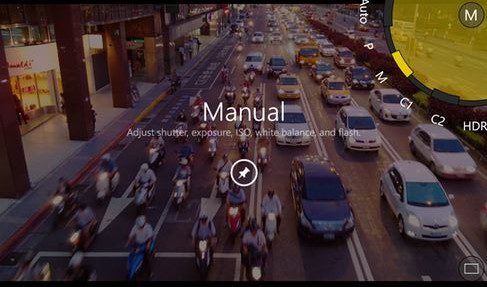 ProShot for Windows Phone allows you to make the most out your mobile camera. It has different modes such as Auto, Program, Manual, and two Custom modes, with the ability to manually adjust Shutter Speed, ISO, White Balance, Exposure Compensation, Focus, Flash, Aspect Ratio, AF Assist Lamp, etc,. This app got recently updated with new UI which you can see above.
v5.0 Change log:
+ Completely redesigned UI and UX to mimic the dials found on DSLRs
+ Added front-facing camera support
+ Added on-screen camera button + tap to focus / tap to capture toggle
+ Add Image Manager – view, manage, batch export, and delete your original and hi-res photos (internal ProShot images only. Camera roll
management coming in a future update)
+ Increased max burst FPS, burst buffer depth now 30
+ Press and hold camera button in any camera mode for full-resolution burst
+ Full-res burst up to 25% faster than Nokia Camera! (30-second test, Lumia 1020, 5MP + 34MP, 1/80s, Nokia Camera: 8 photos, ProShot: 10 photos)
+ ProShot is now the fastest shooting experience on Windows Phone – new dynamic buffer system allows for uniterrupted shooting at the maximum speed possible
+ Significant performance increase in all areas; photo capture, browsing, image processing, and real-time filters
There are lots more in this release. Find the other improvements after the break. Download it here from Windows Phone Store for $0.99 for a limited time.

More improvements,
+ Up to 50% faster frame rate (even with grids, real-time filters, histogram, and 3D level)
+ Added file size and color / luma histograms to EXIF viewer
+ Added sharpness setting
+ Added night scene option
+ Added more options to the filter editor
+ Improved shadow recovery algorithm, built-in filters
+ Faster load time
+ Optimized to run on 512 MB devices
+ Can now zoom 50% more into images in the preview roll
+ New tutorial! Please read it
+ Over 100 tweaks, fixes, and improvements. This update is so huge we skipped 4.0 and went straight to 5.0!
—- Coming soon —-
Windows Phone 8.1 support
Delete images from Camera roll
And much more