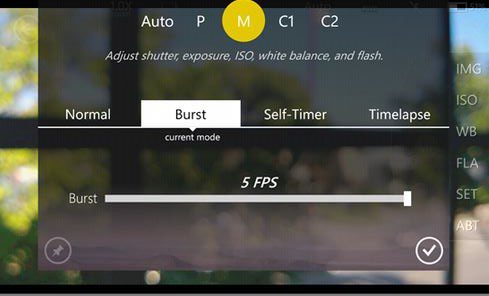 ProShot for Windows Phone allows you to make the most out your mobile camera. It has different modes such as Auto, Program, Manual, and two Custom modes, with the ability to manually adjust Shutter Speed, ISO, White Balance, Exposure Compensation, Focus, Flash, Aspect Ratio, AF Assist Lamp, etc,. This app got recently updated with new features. Find the change log below.
What's new:
v3.6.1
+ fixed URI scheme (see http://riseupgames.com/ProShot/uriScheme.html)
+ HDR now free for all!
+ Fixed live tile bug, may need to re-pin it
+ Big update coming soon 🙂

v3.6
+ Added edit mode to add or remove filters after image capture (filters can now be applied to any photo as well)
+ Added random filter to edit mode
+ Improved focus dial when in portrait mode
+ HDR now more memory efficient
+ Disabled HDR Portrait feature on Lumia 520 because there is no flash
+ Fixed HDR Portrait issue on other devices
+ Samsung bug fixes
+ General improvements
Download it here from Windows Phone Store for $1.99.