Computerworld.com has pulled together the various rumours for Microsoft's new social networking device. Speaking to various sources that have been briefed on the handsets, they note the devices will come in 2 form factors, a clamshell that twists open and a candy-bar shape and several lively colours. The handsets will be exclusive to Verizon, and will range in price between $100 and $150.
The device will run some elements of the announced Windows Phone 7 Series operating system, but not the entire OS. It will also include elements of the Sidekick, designed by Danger Inc., which was later acquired by Microsoft, and the Zune media player. It will have a tile-based user interface that is said to be rather smooth and attractive.
Like the Sidekick the handset will be manufactured by Sharp, but only feature Microsoft and Verizon branding.
Both models are fashioned to please the young social-networking crowd  and will emphasize social networking functions rather than heavy-duty browsing as some smartphones do, meaning it will provide tools to reach contacts through Facebook and other social networks, as well as GPS and location-based applications to help find friends.
"It's for the social networking crowd, including men and women in their twenties," the source added.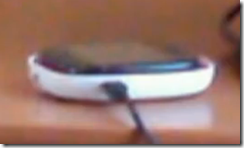 To add our own collection of rumours, leaks and inferences, we note the device has recently been shown to come with a charging dock. 
Analysis of a leaked ROM shows the device to be packed with sensors, including a 3 axis digital compass, proximity and light sensors, possibly HD Radio support and powered by a Nvidia Tegra chipset. The screen resolution will be Half-VGA for the slider and QVGA for the portrait device.  Despite being on Verizon, the handset will fortunately also have WIFI support. It will support microSD cards, unlike Windows Phone 7.
There will be GSM versions called the Pure and Pride, these will likely run on the Vodafone network.
It will feature a marketplace, but that will owe more to the Zune marketplace than the Windows Mobile or Windows Phone 7 version, without free access to developers.  It will not be able to run applications for either of those OS's. The user interface will however still use XNA and possibly Silverlight.
Is there a place for a feature-phone-type device such as this when several smartphones on the same Verizon network, with similar features, such as the Palm Pre and Droid Eris, are selling for the same price or even cheaper?  Let us know below.